Athma vilakku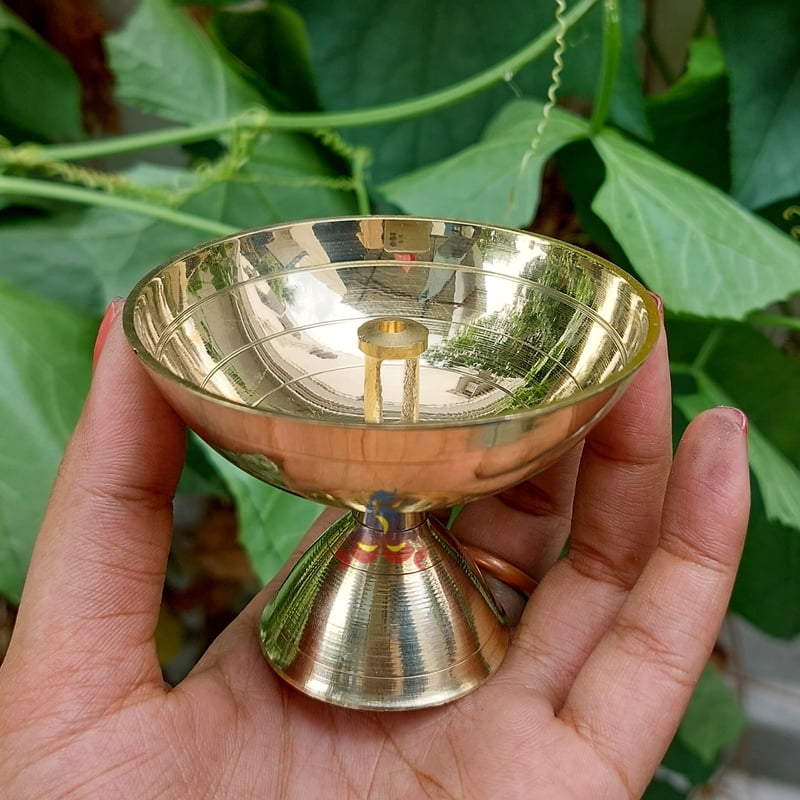 Lit diyas help to dispel the darkness of this night and also radiate light. In many parts of India, people worship the deities Lakshmi, Ganesha and also Kuber on Diwali. By lighting diyas in different parts of your homes, you welcome them in, thereby ushering in good luck, wealth and also prosperity
Light up your puja room with this Atma Vilakku to create a serene and tranquil aura. The high-quality thick brass material makes the diya great for prolonged burning. This aatma lamp will stay burning overnight without a need for replenishing the oil. Ideal for creating calm and meditative atmosphere in your space.
Importance of Lighting Lamps at Home
As we light up the diya/lamp, it removes the darkness from our homes, implying that all the negative energies and vibes are removed from around us.

The light from the diya signifies knowledge whereas the darkness it repels is a symbol of our ignorance.

Lighting a diya at home activates the sun in a native's birth chart and makes it more auspicious. The Sun's positive effects on a person can help him/her live a regal life.

This light in the lamp is a form of Agni or fire – a sacred and important element amongst the Panchtatva, implying that our surroundings are now pure and pious after the lamp lighting.
About this aathma vilakku :-
If this lamp was lit up by women will get Mahalakhmi Kadaksham, prosperity, good understanding with their family and get happiness in their life.

When lit up buy men They will get Self positive thoughts, Good vibrations. if lit up by childrens they will get better Knowledge in thier studies

If you use this lamp Daily in your house all the negative things get burnt out just like the wick. Once the wick gets burnt out, all the negative things will slowly get eliminated

Athma diya deepam structures engraved villaku
You may also like Kanchi Kamakshi Amman Vilakku
Apart from the above mentioned uses there are many other uses and benefits of Athma vilakku which can be felt while using.
Also visit our new website to get latest news in Tamil , English & Hindi