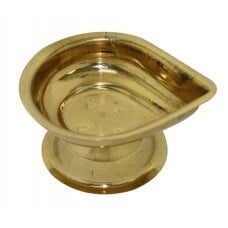 Brass agal vilakku
This Agal Vilakku - brass is used for lighting lamp using the cotton wicks (Thiri-Tamil). It is an integral custom or tradition to start all the auspicious events by lighting the lamp to create a spiritual atmosphere.
This product is made of Brass metal. Best suited for various pooja and religious functions.
Lighting diya lamps also invokes the sight sense of the human body and create calmness to the mind.
Once you have inserted the cotton wick (Thiri) holder , Pour the oil and light the lamp. Sesame / Neem / Coconut oil are best suited for the positivity.
Brass has a tendency to develop the black spots due to its nature
Do not worry on the fading of the shine or the black spots, when it is kept in the open space.
This Vilakku is an ideal piece for your home and temple. It is designed to allow easy cleaning and refilling of oil. Made from pure brass. It is easy to clean and adds more elegance to your eveyday Puja rituals.
It is one of the best item for gifting during the festivals, family celebrations and other customary rituals. Easy maintenance and strong metal makes it easier for a long-lasting usage.
Lighting Agal Vilakku /Diya / lamps invoke the mild sense of the human body and create calmness within us and an important step in daily pooja rituals in both Temple and Home Mandir.
This beautiful Brass Agal Vilaku or Deepamis handcrafted of durable and crack resistant Brass metal Dia and can be cleaned with an ease on a daily basis.
Shop now this Brass Round Agal Vilakuor Diya online as return gifts for Gruhapravesham Puja, Perfect return gifts for wedding or any types of pooja and festival Celebrations such as Diwali, Karthigai Deepam, Navratri / Dasara and bring home the divine glimpse with simplicity.
Beautiful Diya for prayers offerings
To be placed in home temple, shop counter, table top
You may also like Athma Vilakku
Apart from the above mentioned uses there are many other uses and benefits of Brass agal vilakku which can be felt while using.
Also visit our new website to get latest news in Tamil , English & Hindi