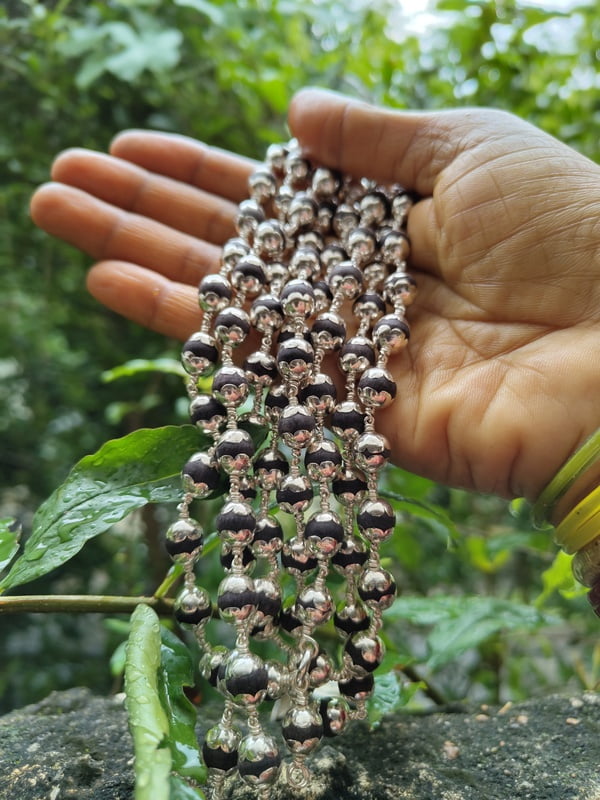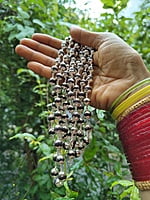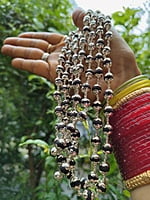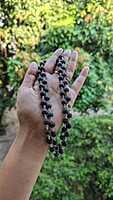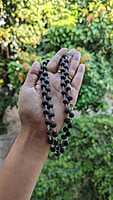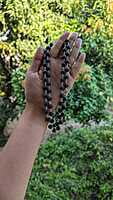 Karungali maalai - Original Silver
Product delivery time 10 working days
Free delivery on domestic orders
Prices subject to change based on silver rate
100% original silver used
Unpolished karungali beads for high positive vibration
High quality finishing
Karungali maalai - Original Silver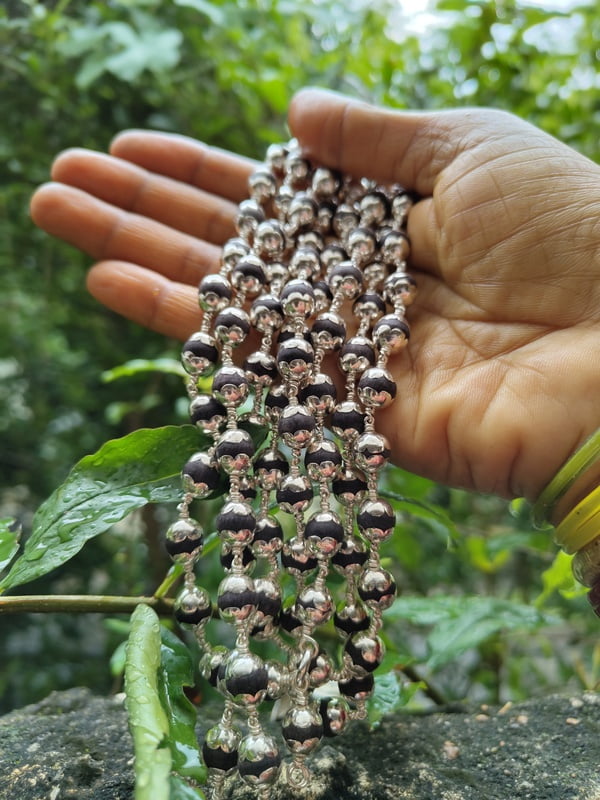 This mala comes in two variants
108 beads with original silver capping in which 45- 50 grams silver used.

54 beads with original silver capping in which 24-25 grams silver used
The Ebony tree attracts and then stores supernatural forces with it. The implication is that it absorbs the good forces in the universe into it and then pushes out the bad forces and not stay. The central portion of the Ebony tree is cut into a round shaped beads and then made into a garland(Mala)
Karungali maala works as talisman created to protects against the evil eye, nazar and drishti. Cleans your aura by wearing this mala. This mala is very suitable for business person who are suffering from sudden down trend in business. Wearing this mala protects us from enemies.
Is it good to wear Karungali Malai?
Wearing and using Karungali maalai - Original Silver will bring success, career growth, avoidance of cash shortages, helps peace of mind, removal of long-standing barriers to victory, elimination of laziness, anxiety and also mental fear, Karungali belongs to the Angara Gragha(Mars).
Where does Ebony come from?
Ebony, is a black hardwood, dense enough to sink in water. A native to Sri Lanka, India, Africa, and Indonesia, it is part of the evergreen tree family. The Ebony tree reaches maturity between 60-200 years and also grows on lower altitudes and within tropical rainforests.
Who can wear Karungali Malai?
All the benefits given by the Angaraha can be obtained by wearing this original Karungali Malai. Both men and women can wear this; This Karungali Mala can be used for meditation, chanting mantras and even as a garland for god idols.
How to Wear Karungali maalai - Original Silver:
The Karungali Mala needs be first washed once in raw milk and then washed in pure water, allow it to dry well then wipe it with a clean cloth. At an auspicious time wear it after worshipping your favorite deity or Kula Deivam.
How can I know if my original Karungali Malai?
Karungali(Black ebony) is a type of tree which has the ability to store radiation.
Methods to find original:
Soak the Karungali malai in water for 24 hours.

Its essentials gets mixed with water and makes the water black.

If the water not turns into black, then it is fake.
Who can wear karungali malai | கருங்காலி மாலை யார் அணியலாம் |அதிர்ஷ்டம் தரும் கருங்காலி மாலை
Apart from the above mentioned uses there are many other uses and benefits of Karungali maalai - Original Silver which can be felt while using.
Also visit our new website to get latest news in Tamil , English & Hindi