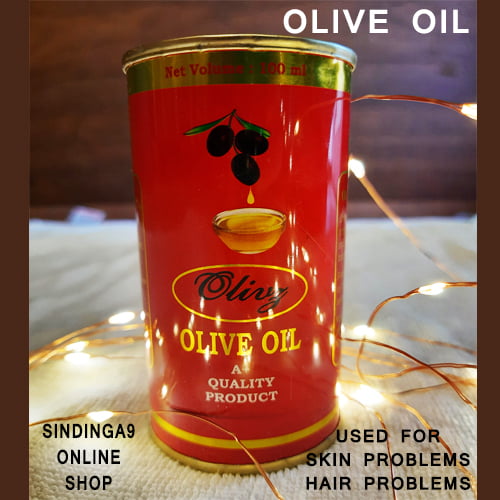 Olive oil
Olive oil for body massage
Olive oil is useful for general body massage
1) Shine
2) Durability
3) Nourishment
1) Body massage
2) Facial massage
3) Skin care oil
Not for medicinal or edible use
Olive oil

Can we apply olive oil on face?

Olive oil can be used as part of a daily skincare regimen or as needed when your skin feels dry. Apply a thin layer to moisturize your face after cleansing. Olive oil helps to lock moisture in, so use it after putting on lotion and before makeup.
If you apply a daily sunscreen every morning, gently apply a thin layer of olive oil right before the sunscreen and dab away any excess.
Olive oil can also be used to help wash off stubborn makeup at the end of the day. If you've ever had to chisel off waterproof mascara, you know how harsh makeup removers can be on your skin. Olive oil naturally lifts the makeup off of your skin, making your regular cleanser much more effective.
Can we mix coconut oil and olive oil for hair?
The combination will help soothe dry, itchy scalps and is a great natural anti-fungal agent for damaged and fine, thin hair. Simply whisk together the olive oil and coconut oil in a bowl (1/2 cup of olive oil and 1 cup of virgin coconut oil will do) before massaging it through your hair and scalp.
Is olive oil good for your hair?
Olive oil is great for hair because it contains moisturizing ingredients like squalene and oleic acid. It may also help prevent split ends because it can increase hair elasticity. Apply cold-pressed extra virgin olive oil to the ends of the hair, but be sure to avoid the scalp.
Can olive oil whiten skin?
Olive oil has little effect on skin lightening. It does not reduce the melanin pigment or increase the exfoliation of dead skin cells. However, EVOO can prevent sun damage and pigmentation. In addition, it can also treat redness and wrinkles on the skin.
Olive oil benefits for skin
Provides deep hydration

Reduces inflammation

Gently exfoliates

Reduces the appearance of wrinkles and fine lines

Protects against the sun's UV rays

Reduces puffiness and swelling

Helps soothe dry or irritated skin

May cause breakouts
Apart from the above mentioned uses there are many other uses and benefits of Olive Oil which can be felt while using.
Visit our new website to get latest news in Tamil , English & Hindi