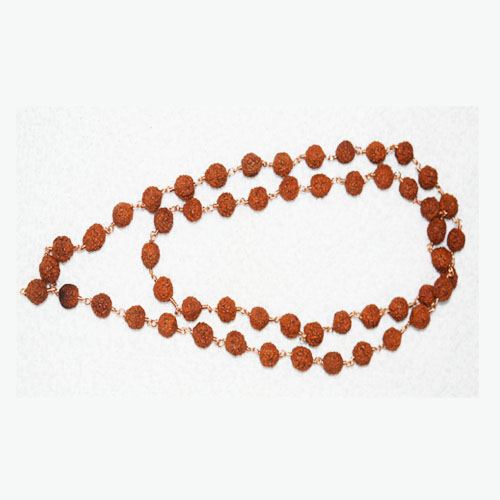 Rudhraksha maalai - 5 face - 108
Rudhraksha maalai - 5 face
108 beads
Rudhraksha maalai - 5 face
A five mukhi Rudraksha is safe and worn by most natives across age groups, gender etc. Known to bring calmness, this Rudraksha lowers blood pressure and calms down the nervous system.
Rudraksha bead helps resolve these problems by stabilizing our body and having calming effect on our heart and senses. The Rudraksha exerts a right force around the heart which improves its performance, controls the heart beat and maintains the blood circulation. It prevents heart attacks and high blood pressure.
Is it good to wear Rudraksha mala?
The Rudraksha bead acts like a protective guard that safeguards its wearer from negative energies. 2. If you are a person who is always on the go, this bead is ideal for you. Because it provides you with stability and good support by creating a protective covering all around you.
Can I wear Rudraksha mala all the time?
When can I wear Rudraksha Mala? The mala can be worn all the time. You can even wear it when you sleep or shower. If you take cold water baths and are not using any chemical soap, it is especially good for the water to flow over it and upon your body.
Can I eat non veg wearing Rudraksha Isha?
Thus , the person who eats non vegetarian and drinks alcohol , can wear the rudraksha . however , it is practically seen that the person who starts to wear the rudraksha beads , convert himself from non vegetarian to vegeterian , because of the power of divine beads .
Why does Shiva wear Rudraksha?
He must always be worshipped by all the gods and asuras. Since he destroys the sins of anyone who sees him, he is worshipped like Shiva. If a person is not liberated through dhyana and jnana, he must wear rudraksha. He is freed from all sins and attains the supreme destination.
Can females wear Rudraksha?
Absolutely Yes, Of Course they must wear it, Bhagwati Parvati, Saraswati and many Devis Rishi Patnis have wear it, Vedic Upnishads on Rudraksha, Shiva Puran categorically mentions that women shall also wear Rudraksha for there Good, Chant Mantra on Rudraksha Mala.
What happens if Rudraksha touches metal?
In case you accidentally touch the Rudraaksh with other metal (like gold, silver), just remove the mala and do conditioning again and wear. Do conditioning every six months after wearing.
Benefits of Wearing Rudraksha
Rudraksha acts as a protective barrier against bad energy.

If you're usually on the go, the Rudraksha mala is perfect for you. Because it creates a protective shield all around you and gives you stability and support.

A rudraksha will spin clockwise if it is held above clean, drinking water. If the water is not clean, the rudraksha will turn anti-clockwise.

The rudraksha is also used for ensuring the quality of your food. It will spin in a clockwise way if you hold it over any positive pranic substance. It will rotate anti-clockwise if you hold it over a negative pranic material.

Rudraksha mala is also quite efficient in treating skin-related issues, including itching, skin irritation, and wounds.

A combination of Rudraksha bead powder, Tulsi, and honey is highly beneficial in curing colds and coughs. To treat any joint-related issues, mix the powder of this extremely blissful bead with mustard oil.

Rudraksha beads might help youngsters improve their focus and concentration.

The Rudraksha mala is said to bring purity to one's life.

When performing meditation or reciting a prayer, the Rudraksha mala is frequently used.
To know about Why women should wear Rudraksha in tamil watch this video
You may also like Sandalwood mala 108 beads
Apart from the above mentioned uses there are many other uses and benefits of Rudhraksha maalai which can be felt while using.
Visit our new website to get latest news in Tamil , English & Hindi