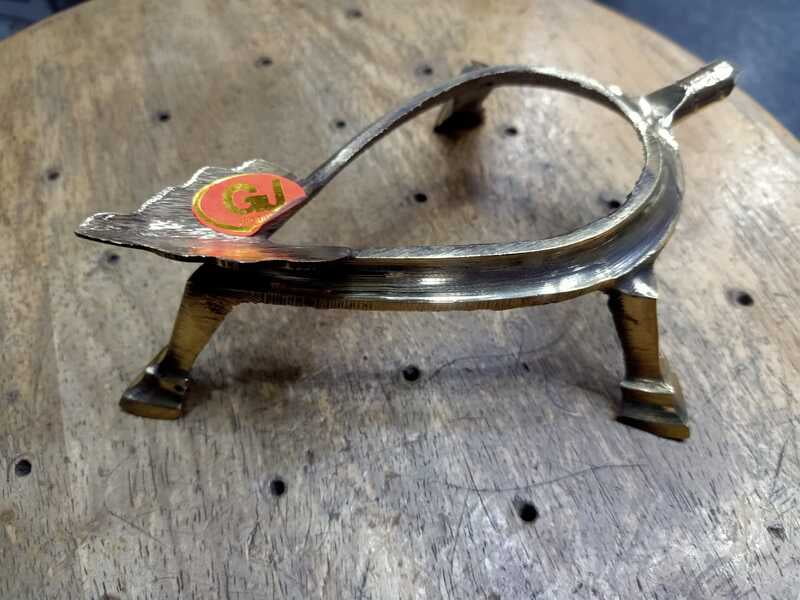 Sangu stand
Sangu stand is a tool to hold sangu in place. This is made of a sturdy material.
Let us see the goodness of sangu / shankh
What is the benefit of shankh?
Keeping a shankh or conch shell in the house helps get rid of Vastu dosha and bring good luck and prosperity. A shankh is auspicious and its sound invites peace, prosperity and luck at home. Shankh or shankham in Sanskrit, stands for shum, meaning something good, and kham, meaning water.
Which shankh is good for home?
Conch shells are regarded sacred and Vastu guidelines must be followed when keeping them at home. Do note here that right-handed conch shells are auspicious and keeping them at home attracts good luck, wealth and prosperity in the household. Also, experts say that conch shell has health benefits, too.
How can I keep sangu in pooja room?
According to Vastu Shastra, one should place the shankh on the right hand side of the puja room and for installation, one should first wash the conch and read the mantra while washing. The mantra is - "Sudarsnastrayafat" .
What is inside sangu?
The sangu is a conch shell primarily used in religious music of Hinduism and Buddhism. The shell is got from the shell of a large predatory sea snail, the Turbinella Pyrum that lives in the Indian ocean. The main body of the shell is oblong or conical.
Is conch good for your health?
For starters, it's a good source of lean protein. In addition, this unusual seafood is a good source of iron and calcium. And according to FishWatch, it is high in vitamin E and B12, both nutrients proved to support sexual health. It is also a source of magnesium, selenium and folate
Benefits of the shankh (conch):-
Attracts good luck and prosperity.
Invites abundance and blessings.
Gives prosperity and peace.
Eliminate Vastu dosha and attract good fortune.
Apart from the above mentioned uses there are many other uses and benefits of Sangu stand which can be felt while using.
Also visit our new website to get latest news in Tamil , English & Hindi