Who we are
The journey of Sindinga9 online shop
SINDINGA9 YOUTUBE
We as a family started sindinga9 youtube channel in the year 2015.
sindinga means To Think (which is the reason behind our brand)
Sindinga9 channel sonthangal ,including you, is now 1.2 million strong in youtube. This 1.44 million is a 5 years of hard work, traditional content, trending videos and more all the way. We have always stayed consistent and truthful to the content related to spirituality, health and well being of all. We will continue to deliver the most valuable content on youtube so subscribe us on youtube @sindinga9
SINDINGA9 ONLINE SHOP
We have always been spreading positivity and suggesting products for betterment of home. Sindinga9 online shop was established to deliver best quality handmade herbal and pooja products to benefit everyone from everywhere. Quality has alway been our priority and we focus more on delivering products with quality that will stand out.
Our motto is to sell limited products that will resonate with our quality and satisfy everyone at the most affordable price range.
We are rooted to Chennai, Tamil Nadu, India. We are available WORLDWIDE as well. We have successfully delivered over 1,00,000+ orders in the past 2 years and we are still growing.
Sindinga9 is more than just an online shop to us. We involve in it as a family,
We focus on ,
1. Customer satisfaction
2. Product quality
3. Limited products and
4. Long term result oriented.
We are very strictly abiding to rules and regulations of the government and henceforth we are properly documented with
1. ISO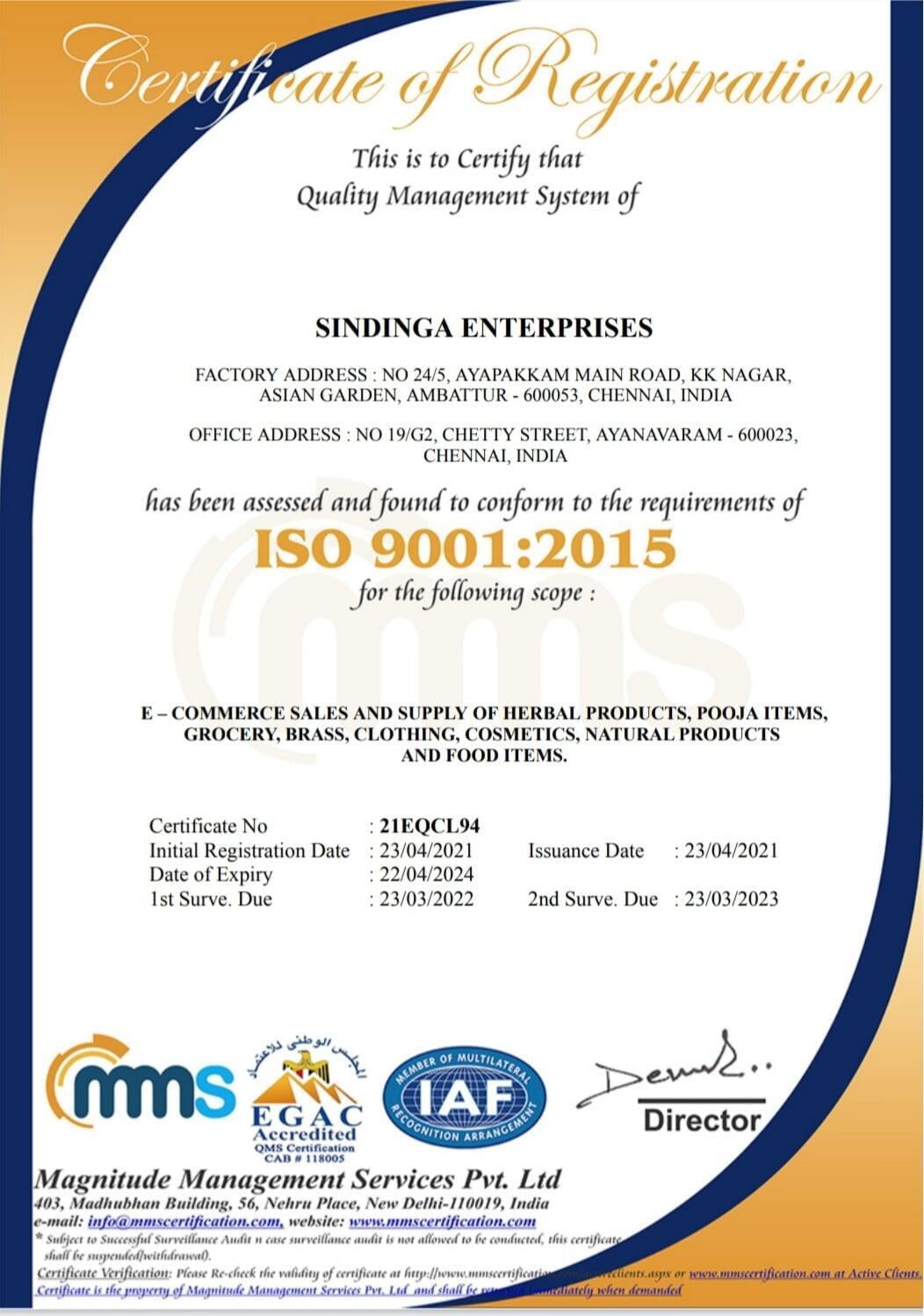 2. MSME
3. Import Export code for international shipping
4. Manufacturing license
5. Trademark registration
6. FSSAI -
22423535000427
(not attaching all docs for security reasons)
So , placing an order with us for herbal or puja products is one of your wisest choices.
We are very candid when it comes to customer interaction and professional with our services.
We strive to provide the same and continuous service forever. All that we need from you is utmost support and encouragement,
Heartily thanks from sindinga9 team