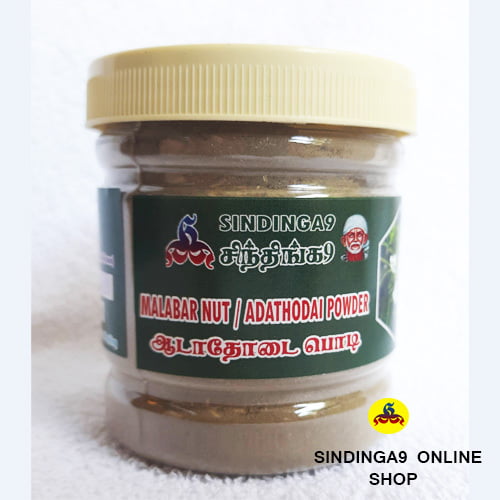 Adathodai Powder / Malabar nut podi
Mix 1 tbsp of powder with 1 tbsp of honey and eat in the morning to cure throat , liver problems. Purifies blood.
Adathodai powder / malabar nut podi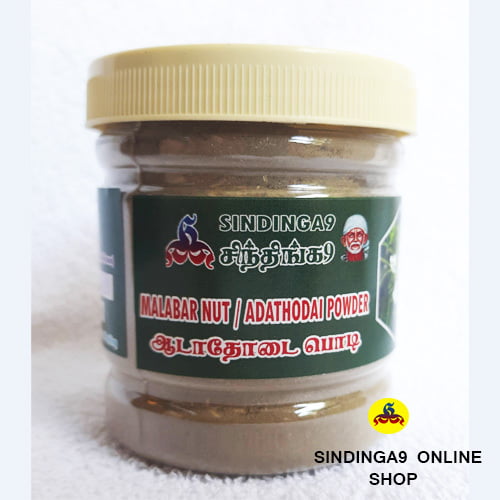 Benefits:-
Remedies Cough And also Cold.

Promotes Gut Health.

Purifies Blood.

Prevents Infections.

Heals Ulcers.

Relieves Pain And also Inflammation.

Treats Uremia.

Augments Skin Health.
How do you use Adathodai powder?
Direction for use: Mix 1/2 spoon (2-3 g) of Adathodai powder in a glass of water and then drink or boil 5 grams of powder in 200 ml of water, filter and take or as advised by doctor.
What is the use of Adathodai?
A powerful herb, Adathodai can holistically heal coughs, various types of fevers, stomach disorders, kapha and also vata-related disorders. It is also antibacterial in nature.
How do you use Malabar Nut powder?
People use the leaf to make medicine. Malabar nut loosens chest congestion, open the breathing tubes (bronchi), and also treat spasms. It treats upper airway infections, common colds, cough, asthma, and also tuberculosis.
What are the uses of adhatoda?
In Ayurvedic medicine, malabar nut (Adhatoda vasica) is a multitude of disorders including; bronchitis, leprosy, blood disorders, heart troubles, thirst, asthma, fever, vomiting, loss of memory, leucoderma, jaundice, tumors, mouth troubles, sore-eye, fever, and also gonorrhea.
Is adulsa used in purification of blood?
Adulsa is a very important herb to regulate the respiratory system. It is to have expectorant and also blood purifying qualities. It may help in diluting and also expelling mucous deposition in the respiratory system.
Conclusion
This amazing rejuvenating herb enriched with nutrients has umpteen health benefits including treating cough & cold , asthma, managing high blood pressure, promoting digestion, boosting immunity and providing relief from sore throat and sinusitis. Consume this powerful ayurvedic herb during the flu season to shield your body from various infectious diseases.
You may also like Aalam vithai
Apart from the above mentioned uses there are many other uses and benefits of Adathodai powder which can be felt while using.
Also visit our new website to get latest news in Tamil , English & Hindi