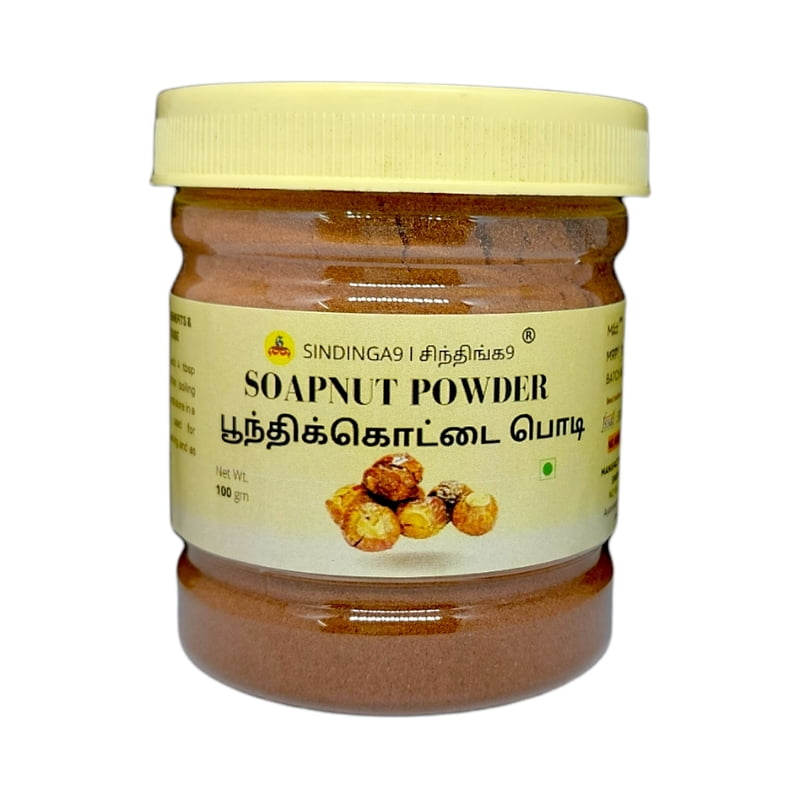 Boodhikottai powder 100g
Soap nut powder benefits :

1. Herbal hand wash powder

3. Soapnut powder for silky smooth hair

4. Excellent pet cleaning wash

5. Good mosquito repellent






Soapnut powder / Boodhikottai powder
Soapnut powder is a very good antibacterial and antifungal agent. It is mostly used in the cosmetic and contraceptive creams. It is also used as detergent, bio-surfactant and remedial for organic soil pollution in the modern science.
What is Soapnut powder used for?
The Sapindus mukorossi nuts produce important amounts of a saponifying agent that can be used as laundry detergent, dish and hand soap, shampoo and body wash, pet cleaning wash and mosquito repellent among others.
Is Soapnut powder good for hair?
Soapnut powder is best for Hair Growth. It contains vitamins A, D, E, and K which impart shine to your hair and make it smooth. You can easily substitute your regular soap with Soapnut powder. It cools your skin and cleanses it as well.
Is soap nut good for skin?
The potent moisturizing property of the soapnut keeps the skin well hydrated, prevents drying of the skin and making the skin look radiant and supple. Furthermore, the powerful antibacterial and anti-inflammatory properties treat skin disorders like acne, eczema and psoriasis.
Is soapnut good for hair loss?
Vitamins A, D, E, and K found in this fruit are known to impart shine to your hair and make it smooth. Since soapnut is antimicrobial in nature, it is a good option to cure bacterial and other scalp infections. Soapnuts are the best for hair growth. Hence, they are used in many natural hair tonics and solutions.
Soap nut powder benefits and uses / Reetha powder uses for hair
1) Prevents Dryness.
Reetha powder contains numerous vitamins and all the vitamins are very beneficial for hair to get rid of dryness of the scalp. The vitamins A, D, E, and K found in reetha powder are known to make hair shiny and smooth. Reetha keeps hair soft, shiny and moisturizes the core of scalp, preventing it from drying. Reetha gives the cooling effect when mixed with other ingredients like shikhakai powder.
2) Good for hair growth.
Reetha is enriched with many natural hair tonics and solutions that give good hair growth. Reetha powder is also used to get thick and bouncy hair. Reetha contains so many natural ingredients that give a good texture to hair. Reetha paste makes hair strong from the root and prevents them from falling.
3) Prevents the scalp from lice.
Soapnut or reetha powder is antimicrobial in nature, hence it cures bacterial and other scalp infections. The insecticidal properties in reetha powder help in killing lice on the scalp. Haircare with reetha powder will kill those unwanted parasites that breed on your blood and live on your hair.
4) Reetha reduces dandruff.
Powdered reetha is known to fights the most common problem of dandruff. Soapnuts make the dry and frizzy hair soft and smooth by nourishing them make it more manageable. The regular usage of reetha powder hair wash can reduce split ends to a great extent.
5) Reetha increases the silkiness of hair.
Since, ancient times, reetha has been used for hair treatment. The chemical shampoos have various side effects which is why people are switching to natural soap like reetha. Washing with reetha powder provides shining and silky hair. It is used as important component in soaps and shampoos for hair wash.
6) Conditions the hair.
Reetha powder is a great conditioner for the hair as it provides hair with all the necessary nutrients. It can also be used with henna powder to colour and condition hair naturally.
You may also like Sindinga herbal hair wash powder
Apart from the above mentioned uses there are many other uses and benefits of Boodhikottai powder which can be felt while using.
Visit our new website to get latest news in Tamil , English & Hindi