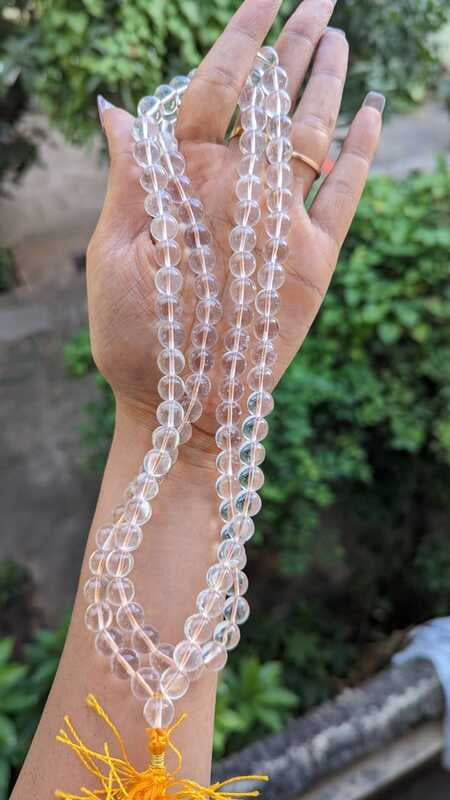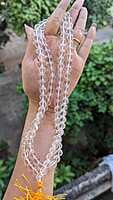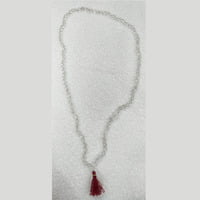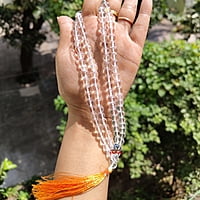 Sphatik mala / Quartz crystal garland
original pure clear spatigam maalai
5mm

- 108 beads - 11 inches length
( perfect for children )
7mm

- 108 beads - 14.5 inches length
10mm

- 108 beads - 19.5 inches length
( perfect for adults and idols - puja purpose)
All the above malai can be used for meditation purpose as well
Sphatik mala / Quartz crystal garland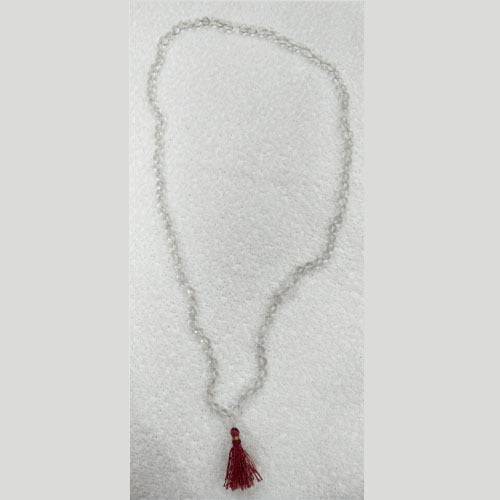 Benefits of this Sphatik Mala:
This rhinestone rosary removes poverty.

This is a very good for overall health of the native and his family.

It gives mental peace, freedom from headaches, blood-related issues, and also fevers.

It is very good to appease Goddess Lakshmi.
Can I wear Sphatik mala while sleeping?
There is one important precaution, if you are married, no matter what mala you are wearing be it Sphatik, Rudraksha etc., then at night, you should take out this mala before going to bed. Next morning, you can wear this mala again, after showering.
What are the uses of crystal mala?
Adorning a mala of sphatik or quartz crystal strengthens purpose in life, diminishes stress, supports healing abilities and also helps with centering (balancing or soothing). The Sphatik Mala is said to have spiritual powers. It renders peace and also calms the stressed mind. This has the capability to reduce body heat.
Can we wear rudraksha and Sphatik mala?
Rudrakha & Sphatik mala is holy & also very powerful combination Sphatik Rudraksha Mala is perfectly balanced in nature because Sphatik (Crystal Quartz) is a feminine, ethereal cold element while Rudraksha is considered as a masculine earthly element.
Can Sphatik be worn by anyone?
Wearing a Sphatik rosary helps to boost romantic relationships. Disadvantages: To be fair, anyone can wear quartz crystal in the form of a necklace or keep it around the house. It bears no malicious effects and is highly associate with Lord Shiva and is a symbol of peace and content.
What is Sphatik made of?
Sphatikam beads are made from translucent rose quartz are cut and polished as beads. Each bead is about ten millimeters in diameter. It is good conductor of heat. Hence people wear sphatikam jewelry (mala) to keep their body cool.
Benefits :
1. Mitigates the past reactions of karmas
2. Protects against ominous accidents and unfortunate events
3. Cures the influence of adverse planets
4. Aids in memory and also decision making
5. Regulates blood pressure
6. Minimizes stress and also relaxes the mind
7. Wherever Rudraksha has worshipped the Goddess of wealth always stays there.
8. Helps in the awakening of Kundalini.
9. Peace and harmony.
10. Controls stress, hypertension, and also blood pressure.
11. Increases self-power.
12. Gives peace of mind to the wearer, stimulates the mind, and also sharpens the intellect.
13. Balances the chakras and then heal diseases in the body
14. removes the blood impurities
15. it can cure headache, cough and also paralysis
16.it provides Citric acid and also Vitamin C
To know more about the Uses of drinking Spadikam soaked water in tamil watch this video

To know more about the benefits of Sphatik Maalai in tamil watch this video

You may also like Sandalwood mala 108 beads
Apart from the above mentioned uses there are many other uses and benefits of Sphatik maalai.
Also visit our new website to get latest news in Tamil , English & Hindi