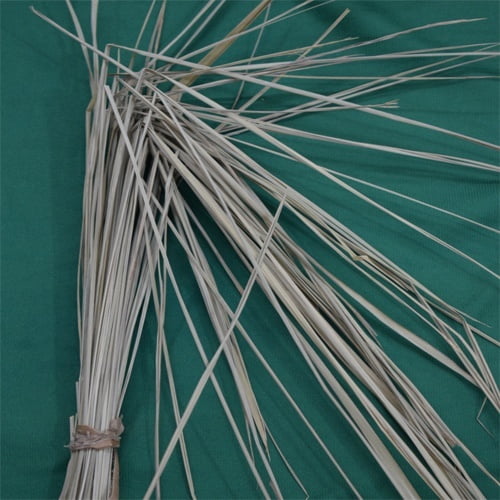 Darbai Grass / Halfa Grass
Kusa and Darbha are grasses that form a vital ingredient in various Vedic sacrifices (Yagnas) and rituals. They are found along river beds and plains throughout India and are well known for their medicinal properties as supported by traditional Ayurvedic scriptures and are a vital component in traditional medicinal formulations such as Tripanchamool, Kusadya-ghrita and Kusablecha, etc
Health benefits
Natural UTI cure
Diuretic property and Cooling property of this drug helps to treat the burning micturition and retention of urine in the renal calculi and cleanse the urinary bladder.Good for managing UTI (urinary tract infection), support kidney health.
Diabetes
Darbha has a hypoglycemic effect that helps in maintaining euglycemic levels (a normal level of glucose in the blood).

Diarrhoea and Dysentery
Desmostachya bipinnata root has an antidiarrheal property which is useful for the treatment of diarrhoea and dysentery.
Leucorrhoea
Kush is beneficial in getting relief from this. Drinking rice paste from a root of Kush root (2-4 grams) for three days provides relief from leucorrhoea (kusha grass benefits).
Bleeding piles
Kusa root mixed with bala root taken with rice water helps to control bleeding.




What is the use of Darbha grass?

Darbha (Desmotachya bipinnata) is a tropical grass considered a sacred material in Vedic scriptures and is said to purify the offerings during such rituals. At the time of eclipse, people place that grass in food items that could ferment and once the eclipse ends the grass is removed.




What is Dharbai?

Dharbai is extensively used during chanting of vedic mantras, performing religious rituals including ceremonies related to death (like amavasya tharpanam, pithru pooja etc), auspicious routines, conducting homams and for prayers in temples.

You may also like Sozhi

Apart from the above mentioned uses there are many other uses and benefits of Darbai grass which can be felt while using.