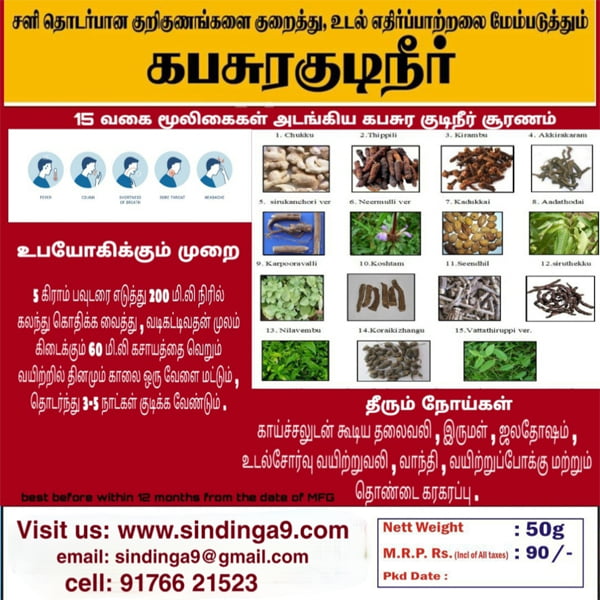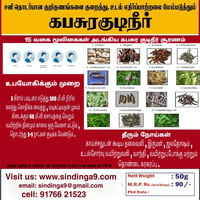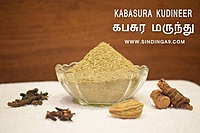 Kabasura kudineer கபசுர குடிநீர்
Kabasura Kudineer
Kabasura Kudineer is a well known Siddha medicine that consists of a whopping 15 herbal ingredients, each of them having unique characteristic features of its own. But this Churnam is extensively aimed for boosting the lungs, improving respiratory mechanism and treating infectious conditions like cough, cold, fever and other respiratory infections. This Churnam became quite well-known during the times of flu owing to its therapeutic and curative qualities.
The Churnam though in powdered form is generally consumed after infusing it in water and making a decoction or kadha like consistency.
What are benefits of Kabasura Kudineer?
Helpful in respiratory-related symptoms like phlegm, cough, fever, etc. Loaded with powerful anti-inflammatory, analgesic, antioxidant, and antiviral properties. Acts as an immunomodulator and possesses antipyretic properties. Also has hepatoprotective, antifungal, antibacterial, and antiviral benefits.
Ingredients
Ginger (Chukku)
Piper longum (pippali)
Clove (lavangam)
Dusparsha (cirukancori ver)
Akarakarabha
Kokilaksha(mulli ver)
Haritaki (kadukkaithol)
Malabar nut (adathodai elai)
Ajwain (Karpooravalli)
Kusta (kostam)
Guduchi (seenthil thandu)
Bharangi (Siruthekku)
Kalamegha (siruthekku)
Raja pata (Vattathiruppi)
Musta (korai kizhangu)
Neer (Water)
Direction to use :-
Take 5 g of this kabasura kudineer powder , put it into 200 ml water and let it boil . After filtering it drink the juice in an empty stomach for 3 to 5 days in the morning

The filtrate liquid is stored and consumed within 3 hours owing to its shelf life.
You may like Moringa or Drumstick leaves powder
You may also like Nilavarai powder
Also try Gooseberry or Nellikai powder
Apart from the above mentioned uses there are many other uses and benefits of Kabasura kudineer which can be felt while using.