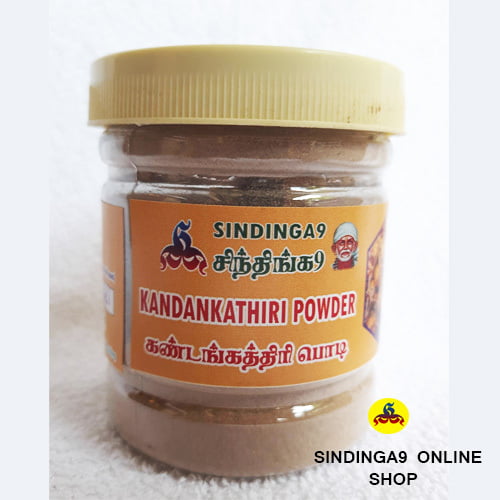 Kandankathiri / கண்டங்கத்திரி powder 100g
Kandankathiri is a great remedy for many respiratory conditions, used widely in Ayurveda for the treatment of bronchitis, fever,cough, cold, asthma, hoarseness of voice, migraine, headache, worms, loss of appetite, enlargement of the liver and improves digestion.
Kandankathiri (Solanum xanthocarpum ) of the family Solanaceae is one of the main ingredients in Dashamoola, a commonly used Ayurvedic preparation for respiratory problems .
This herb is also said to be beneficial for the treatment of Paralysis, diseases of Eye, Ear, Brain and cardiac diseases associated with edema. It is a potent antioxidant, brings down free radicals, protects liver, reduces cholesterol and obesity.
What is the use of Kandankathiri?
Traditional Uses
The herb is useful for bronchial asthma, chest pain, cough, cure vomiting, hair fall, dropsy, scabies, itching and skin diseases. It is useful for healing wounds and cardiac diseases associated with edema. The herb is also found to be helpful for lowering headache and migraine.
What is the benefits of Kantakari?
The Kantakari fruit has various impressive health and medicinal benefits. It is rich in antioxidants which fights against the free radicals and prevents cell damage. The Kantakari fruit is carminative and helps reduce flatulence or bloating. Kantakari fruit juice is used in the management of rheumatism and sore throat.
Other Uses:The whole plant is useful in vitiated conditions of vata and kapha, helminthiasis, dental caries, inflammations, flatulence, constipation, dyspepsia, anorexia, leprosy, skin diseases, hypertension, fever, hiccough, lumbago, hemorrhoids and epilepsy.
Focus on plant research has increased all over the world and a large body of evidence has been collected to show immense potential of the drug Kandankathiri used for various respiratory disorders in the Ayurvedic systems of medicine. Lot of formulation containing Kandankathiri as an ingredient in various dosage forms are available. Various researches have proved many of its activities mentioned in Ayurvedic classics giving a strong scientific base.
Direction for use: For Adults Mix 2-3 gms of Kandankathiri powder in honey or a glass of water and drink . Can also be taken with soup or rasam.
You may also likeOrithal Thamarai or Hybanthus Powder
Apart from the above mentioned uses there are many other uses and benefits of Kandankathri powder which can be felt while using.