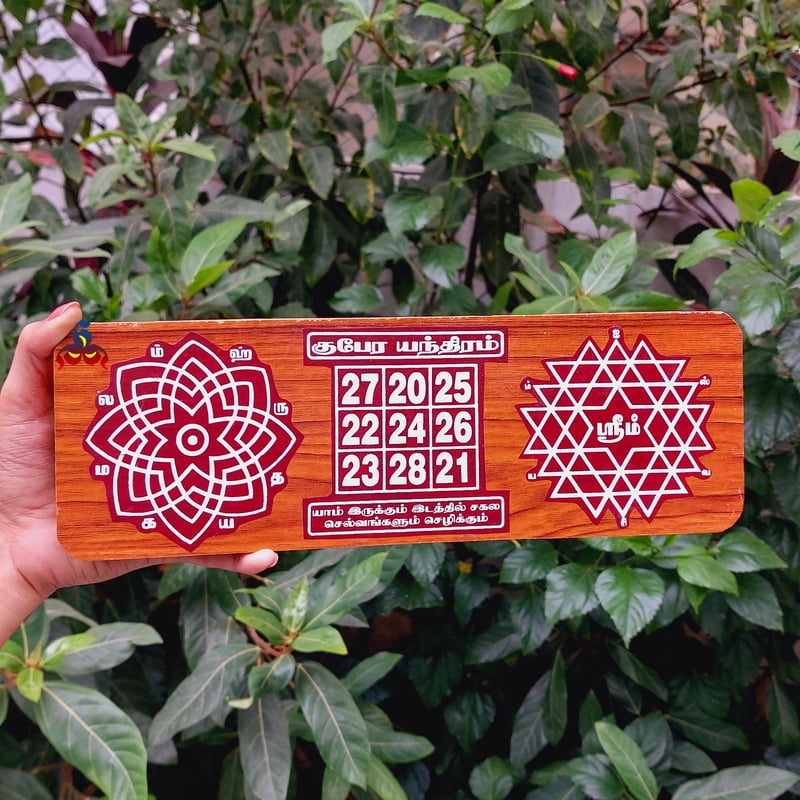 Kubera endram manakattai
Weight - 440grams
Length - 12 inches
Width - 4 inches
Height - 1.5 inches
Kubera Yantra / Kubera endram manakattai
To acquire wealth and safeguard the existing wealth you can install Gubar yantra in your home and offices . The Kubera Yantra is a Sacred instrument that consist of a figure or symbol characterised by simple Geometric forma arranged in a symmetric design that resonates with the powers and positive frequencies of Lord Kubera . The yantra has the power to attract the principles of Lord Kubera and through its Mantra and blesses the worshipper with abundant wealth , prosperity and also safeguards the existing wealth
How do Yantra work ?
The powers of yantra thrive on the reverberation Of cosmic energies . When you focus at the centre of Yantra your mind is pitched into a creative force of the yantra through which the energy flows .
One must pay attention while installing the yatra as it is very important to place the yantra in a appropriate direction . Yantra energises the location where it is installed . You may place it near the entrance of your home / office or shop or in your living room or reception or study room or office cabin . You may keep it on a table Yatra or use as a wall hanging . Yantra is the best placed in East Direction facing west . It gets energised by the race of the rising sun and with the Divine vibrations of the east corner and provide positive transformation energies to the dwelling through its mystical geometry .
The ultimate answer for establishing a vibration of large amplitude or resonance with the benefic Energies of the cosmos . Thus the vibration generated get in contact with a elevated energies and entities Which put us on a spiritual path resonant with the principles of the deity of the yantra
You may also like Lakshmi gubera vilakku
Apart from the above mentioned uses there are many other uses and benefits of Kubera endram manakattai which can be felt while using.
Visit our new website to get latest news in Tamil , English & Hindi