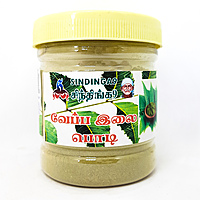 Neem leaf powder
Neem leaf powder
100 grams
Neem contains chemicals that might help reduce blood sugar levels, heal ulcers in the digestive tract, prevent pregnancy, kill bacteria, and prevent plaque formation in the mouth. Neem is best known for its anti-aging properties.
Due to its antioxidant properties, neem protects the skin from harmful UV rays, pollution and other environmental factors. The vitamins and fatty acids in neem improve and maintain the elasticity of the skin, reduce wrinkles and fine lines. This make you and your skin look rejuvenated and youthful.
neem leaf powder benefits:-
Neem leaf powder purifies the blood, battles free radical damage, flushes out toxins, treats insect bites and cures ulcers. Furthermore, the powerful anti-fungal, anti-bacterial properties of neem leaf powder facilitates in treating worm infestation, burns, skin disorders and triggers the immune system.
What Is Neem Used For?
Neem is used in an ancient form of healing, called Ayurveda, to treat asthma, constipation, cough, diabetes, stomach ulcers, indigestion, gum disease, urinary tract infection, and other illnesses
Can we drink neem powder?
Neem can be taken orally and also be applied on the affected skin area to manage various skin problems like acne, pimples, skin rashes and skin allergies. It is also used to reduce the symptoms of psoriasis, eczema and ringworm infection.
How to consume it?
Method 1: Mix a 1/4 teaspoon (1 gm) of neem powder with a small amount of water until a paste forms. Once there is a paste-like texture, use your hands to form a small ball. Use 1 gm of neem powder to prepare neem balls. Swallow this ball along with drinking light honey in lukewarm water every morning on an empty stomach before starting your sadhana.
Method 2: Dissolve a teaspoon of neem powder in a glass of lukewarm water and drink it every morning on an empty stomach. This method is especially beneficial for diabetic patients as it helps manage sugar levels and acts as an insulin.
Method 3: Dissolve a teaspoon of neem powder in a glass of milk and drink it to boost the body's immunity and health, and to help clear out toxins.
To know more about the benefits of Neem leaf powder in tamil watch this video
You may like Panner Poo
What you should know:
Neem is said to be a natural contraceptive for birth control and spermicide. Pregnant and lactating women are advised to consume herbal products under the advice of a physician.
Apart from the above mentioned uses there are many other uses and benefits of Neem leaf powder which can be felt while using.