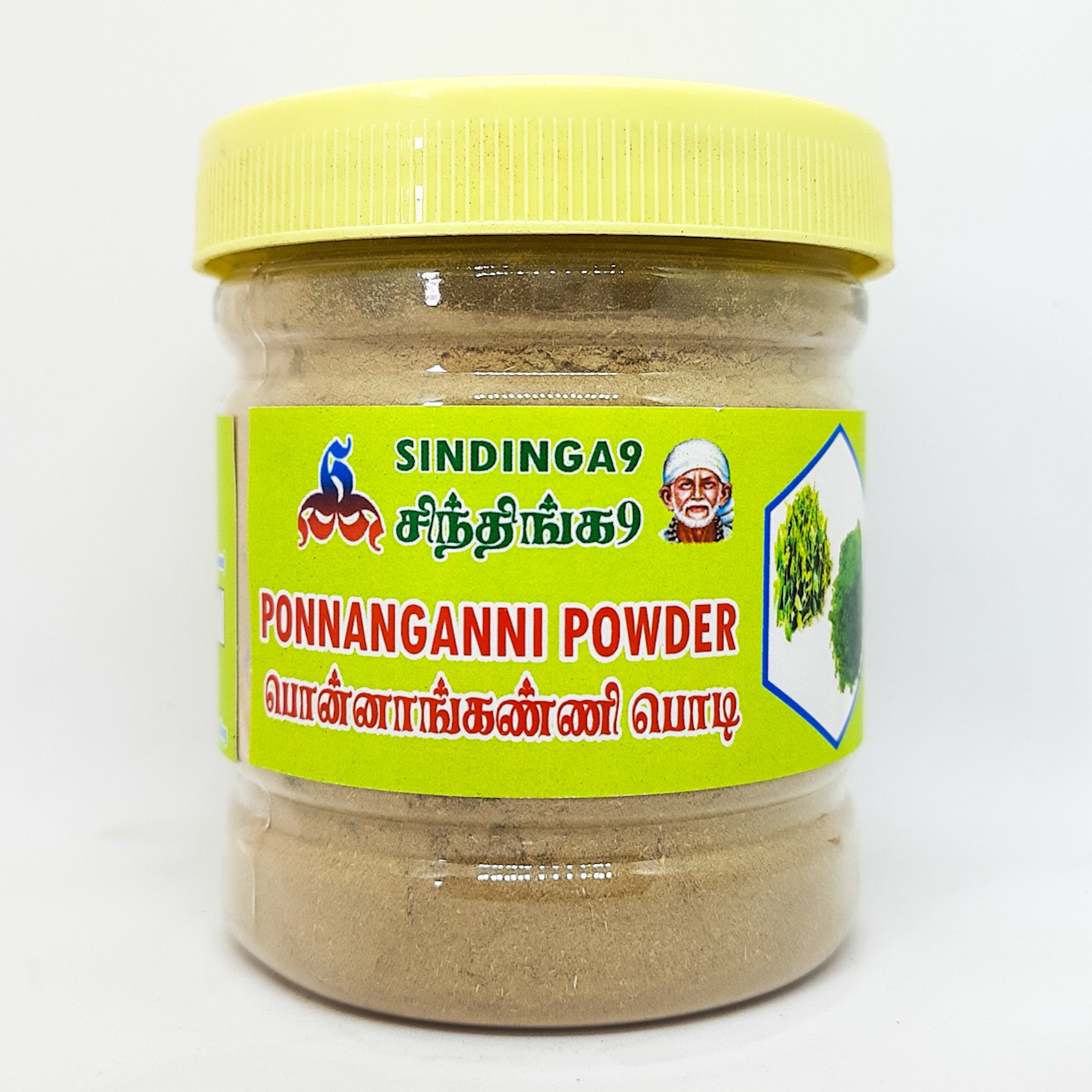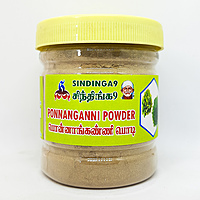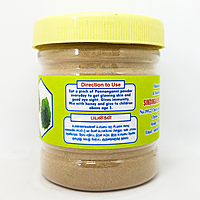 Ponanganni powder 100g
Ponnanganni leaves powder cures
Eye problems
removes body heat
increase energy level
cures piles
cures asthma
increase weight
cures headache
Ponanganni powder Health Benefits
1. Eye Care
Ponnanganni keerai or leaves are one of the best sources for treatment of eye related problems. Fresh leaves are applied as such on the eye lids to cure inflammation in the sebaceous glands of the eyelids. It also cures chronic inflammation in the eyes and conjunctivitis.
The paste prepared from the leaves are applied tropically on the affected areas to draw out from the body stings and spines.
Powdered dry ponnanganni leaves are applied externally to remove the effect of poison due to snakebites. It can be applied along with other first-aids given for snake bites.
Improves vision: By consuming ponnanganni leaves as a vegetable continuously for about two months one can get cured of all eye related problems like inflammation and reduced vision. Instead of consuming it as a vegetable, the leaves can be consumed by making a paste from the leaves and tender stems. Consuming two teaspoons of the paste every day gives the same benefit as consuming the leaves as vegetable.
Cures Night blindness: The shiny white flowers of the herb are very effective in curing night blindness. This benefit can be derived both by external application of the flower powder or by consumption of the steamed flowers. Consumption of the steamed ponnanganni leaves with butter is also a good remedy for night blindness and other eye problems.
2. Enhances Energy Level
Consuming a mixture of ponnanganni juice with cow's milk enhances the body strength and vitality. Goat milk also can be substituted for cow milk. Consuming every day, in the mornings a teaspoon of the extract of ponnanganni leaves mixed well with coconut oil improves the overall energy level of the body.
3. Liver Care
In Indian medicine ponnanganni keerai is used as a cholagogue, gastrointestinal agent, which stimulates the bile flow (bile is an emulsifying agent produced in the liver which aids digestion of fats).
4. Cures Asthma
Consumption of two tablespoons of ponnanganni powder juice with one or two garlic cloves cures intermittent fever, continuous cough and asthma.
Here are the steps to make a drink to cure asthma:
Take two cloves of garlic.
Peel the garlic cloves and crush them.
Take the crushed garlic cloves, half a cup of chopped ponnanganni leaves / powder and 200 ml water in a blender.
Blend on high for a few minutes into a juice.
Strain well to get the extract.
You can drink this juice once daily in the morning to cure asthma. You should consume this juice continuously for at least 2 months to start noticing a reduction in the symptoms.
5. Improves Breast Milk
Consumption of cooked ponnanganni keerai and the soft stems of the plant helps lactating mothers by improving breast milk besides maintaining the health of the liver.
Breastfeeding mothers can include about 2 tablespoons of the cooked green to their lunch diet. It would be an ideal accompaniment for rice along with ghee. It provides essential EFAs as well as improves lactation in new mothers.
6. Helps Weight Gain
Those who are underweight, can consume ponnanganni leaves after cooking with tuvar dhal and ghee to gain weight. You can consume this like a soup or eaten along with rice. For weight gain, follow the below recipe:
Take toor dal in a wok and boil it in water. Let it get fully cooked.
Take oil in a vessel and allow it to become hot.
Add mustard seeds to the oil and allow it to crackle.
Now add the cooked dal.
Add the green leaves / powder and cook for a few minutes. add some water when necessary.
Now add some salt and turmeric powder. Mix well and saute till the leaves are fully cooked.
Done.
7. Cures Headache
When the fragrance of the dried (powdered) leaves are inhaled, it provides relief from headache and dizziness. The same oil explained above can be used to cure headaches.
The extract of the leaves has the ability to stop vomiting and reduces nausea too.
How to Consume?
Ponnanganni leaves can be consumed by either in form of juice or soup. Follow these receipes:
Recipe 1
This recipe is for those who wish to cure eye disorders and improve eye sight.
Wash the green leaves and 1 big carrot.
Peel and cut carrots into cubes.
Take 100 ml of fresh ponnanganni juice made from powder
Take an equal quantity of carrot juice.
Mix both juices together.
Now add a pinch of rock salt to the mixture
Consume this drink regularly in the morning. Preferably an hour before lunch.
Recipe 2
This soup is traditionally called a rasam in South India and is made as an accompaniment for rice. But you can drink this is as a soup and it is very tasty.
Ponnanganni soup – steps:
Take one tbsp of ponnanganni leaf powder
Take about half tablespoon of sesame oil in a wok.
Add mustard seeds, cumin seeds and peppercorn to the hot oil. Allow the seeds to splutter.
Mince 3-4 cloves of garlic and add to the wok. Saute for a minute.
At this point, add powder
Pour 500 ml of chickpea water or lentil water to the wok. If wither of these aren't available, then you can use vegetable broth instead.
Add quarter teaspoon of asafoetida (hing).
Add turmeric powder and salt.
Allow all ingredients to cook together for a few minutes till a nice aroma emanates.
Switch off. You can season with cilantro (coriander leaves) if required.
Recipe 3
Acute and bleeding piles or hemorrhoids can be cured with this recipe.
Wash 1 big radish.
Peel and cut radish.
Take two tablespoons of fresh ponnanganni powder.
Take an equal quantity of radish juice.
Mix both juices together.
Consume two tablespoons of this juice twice a day (once in the morning and once in the evening) to cure hemorrhoids.
Visit our new website to get latest news in Tamil , English & Hindi