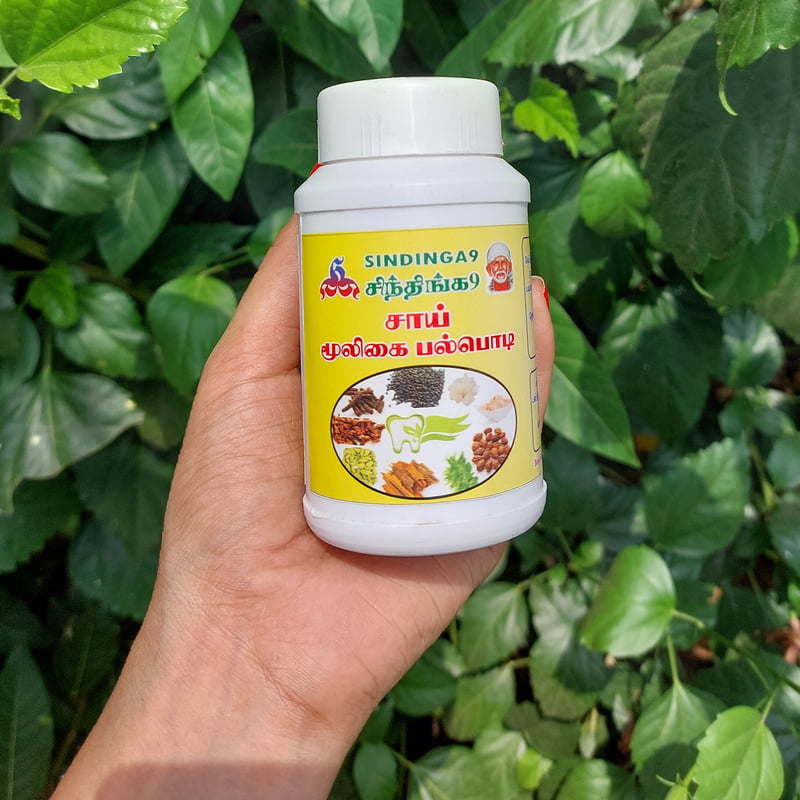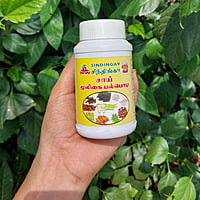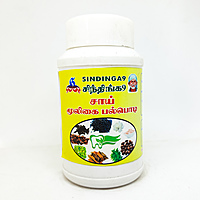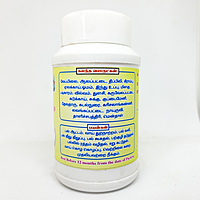 Sai Mooligai Palpodi / Tooth Powder

Sai Mooligai Palpodi Sai Mooligai Palpodi or tooth powder is a generous blend of herbs that helps to maintain your oral health and it gives us confidence.
Tooth powder is thought to have originated many thousands of years ago. Ancient people may have used ingredients such as myrrh, burnt eggshells, crushed animal bone ash, and oyster shells to create powders able to remove mouth odor, plus clean and polish teeth.

INGREDIENTS :-
Neem leaf, aalapattai, long pepper, cloves, elaichi, omam / ajwain/ oregano, himalayan rock salt , pepper, alum stone, vilvam/ Bel Tree leaf , tulsi / holy basil, karuvelapattai , kadukai / haritaki , sukku/ dry ginger, kuppaimeni / purslane , deodar tree leaf / devadaru , kadalnurai , bringraj / karisalankanni , pattai / cinnamon ,naai urivi / chaff-flower , thalicha pathiri ,and menthol. These ingredients have various uses
USES :-
cures loose tooth , foul smell , tooth ache , tooth sensitivity , bleeding gums, blood clot, pigmented teeth.
Is tooth powder good?
Dental powders are made with all-natural and often organic ingredients, and they are free from potentially harmful chemicals, including artificial flavors and colors. When it comes to overall effectiveness, studies that have shown that tooth powder may actually be better at reducing plaque than regular toothpaste
Is tooth powder the same as toothpaste?
Toothpaste often contains thickeners and humectants, which keep them consistently moist and smooth. Tooth powders are meant to be dry, so they don't contain humectants. Depending on the brand, some tooth powders also contain charcoal, clay, herbs, or other natural ingredients to promote whitening.
Is tooth powder harmful?
Tooth powder can be more effective in removing plaque than toothpaste. Most of them are made of natural and organic ingredients. Does not contain fluoride, therefore non-toxic and safe for children
How often can you use tooth powder?
Rinse your mouth out with water, and follow by brushing with your regular toothpaste, if required. 4. Complete 1-2 treatments per week to keep on top of stains and maintain a clean, white & bright smile.
You may also like Rasamani or urancia
Apart from the above mentioned uses there are many other uses and benefits of Sai Mooligai Palpodi which can be felt while using.
Visit our new website to get latest news in Tamil , English & Hindi