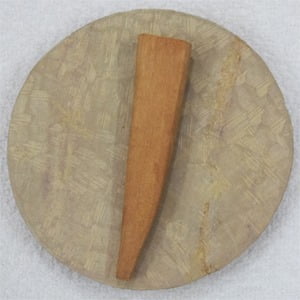 Sandal wood stick and stone
One piece of sandal wood stick with stone
sandal wood stick ranges from 10 - 20 grams
sandal wood stick and stone is a class of woods from trees in the genus Santalum. The woods are heavy, yellow, and fine-grained, and, unlike many other aromatic woods,
Sandalwood or Chandan is a sacred Ayurveda ingredient. Profusely used in religious rituals, the sandalwood tree has been mythologised in Indian customs since time immemorial. The Indian vedas record the holiness of the herb, and its unique and musty fragrance till now fills the halls of many a Hindu temple and a Buddhist monastery.
What is the use of sandalwood stick?
Sandalwood oil helps nourish the skin, improve the elasticity of skin cells, even out skin tone. Because of these qualities, it can be beneficial in reducing the appearance of scars. According to a 2018 study, sandalwood and honey were shown to prevent or minimize hypertrophic or thick, raised scarring.
What is Sandlewood good for?
"Using aromatherapy with sandalwood oil can promote calmness, lower stress, and improve sleep quality," Bhanote says. "You may even consider rubbing it into your wrists as a natural alternative to perfumes. Research has also shown sandalwood can improve mood and attentiveness."
Can we apply sandalwood daily on face?
What to keep in mind while including sandalwood in your everyday beauty routine. While sandalwood can be used on all skin types, it can cause irritation to super sensitive skin. Make sure to do a patch test to check for an allergic reaction before applying on inflamed areas.
Is sandalwood good for skin whitening?
Sandalwood contains natural skin lightening agents and hence is used in many fairness face packs. Take 1 tablespoon of sandalwood powder, and besan. Add a little turmeric and put required amount of rose water to make a thin paste. Apply this paste on your face for 15 minutes and wash it off with a mild face cleanser.
Benefits Of Sandalwood For Skin
The uses of sandalwood powder on face are many. Not only does sandalwood help you get clear skin, it also helps you get rid of persistent skin-related issues. Let's tell you how:
1. Anti-ageing
Sandalwood is rich in antioxidants that prevent skin sagging and the consequent formation of wrinkles. It is also capable of fighting the damage caused by the presence of free radicals in the skin. Ayurveda reveres it for its anti-ageing properties that can make skin firmer, while also reversing sun damage. Isn't that amazing.
2. Fights acne
You can even use sandalwood to prevent those wretched pimples from popping out on your skin. The antiseptic properties of sandalwood reduce bacterial growth on the skin, which makes it very effective in treating acne, boils, and sores and preventing them from worsening.
3. Removes scarring
Sandalwood is known to heal your skin tissues. This healing property helps in getting rid of scars from wounds, blemishes, dark spots and eczema. You can also use sandalwood powder for skin whitening as it removes skin impurities to give you an even tone. This is why brides-to-be are advised to apply sandalwood on face to look flawless on their wedding day.
4
. Soothes the skin
Sandalwood is rife with anti-inflammatory properties, which makes it an ideal remedy for sunburns and skin rashes. It heals skin irritation and itchiness caused by infections, insect bites, or product reactions and also prevents eruptions and acne.
5. Anti-tanning
The effects of a suntan can last for long if not treated quickly. Rubbing sandalwood oil or applying its paste on the affected parts can remove suntan gradually as well as reduce the redness and burning caused by overexposure to the sun's rays
To know more about the benefits of Sandal wood stick and stone in tamil watch this video
You may also like Kasturi turmeric powder
Apart from the above mentioned uses there are many other uses and benefits of Sandal wood stick and stone which can be felt while using.
Visit our new website to get latest news in Tamil , English & Hindi