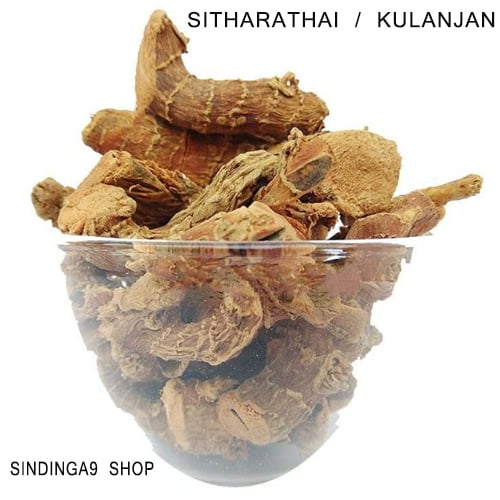 Sitharathai | Kulanjan stick
Kulanjan/Galangal contains excellent anti-inflammatory properties and hence it is used in the treatment of arthritis & rheumatoid arthritis. It helps relieve discomfort that is caused due to ulcers and inflammation of the abdomen. Kulanjan also improves blood circulation in the body
Is galangal good for hair?
Galangal helps improve hair conditions: The Galangal herb has been used widely for the treatment of hair and scalp. The use of galangal on the scalp can help improve the blood circulation, thus promoting healthy hair growth. The antiseptic properties of galangal can help get rid of dandruff or dry scalp.
Medicinal properties of kulanjan:-
Antimicrobial

Anti-inflammatory

Anti- HIV

Immunomodulator

Anti-Diabetic

Anti-diuretic

Anti-ulcerative

Anti-dementia
Medicinal uses of kulanjan:-
The dried rhizome of kulanjan is pulverized to obtain the powder which is used extensively for several medicinal purposes. Given below are a few remedies to treat several common ailments.
Phlegm, chest congestion, cough, asthma, and other respiratory ailments: Kulanjan has expectorant, antioxidant, and antimicrobial properties. Being hot in potency, it reduces cough.

Throat irritation and bad breath: Ayurveda recommends to use this herb for oral and voice problems.

Fever, lung congestion, flu, nausea: This remedy needs powdered kulanjan powder and misri. Mix these two ingredients in equal amount and talk half a teaspoon with milk or hot water.

Kulanjan contains excellent anti-inflammatory properties and hence it is used in the treatment of arthritis & rheumatoid arthritis.

It helps relieve discomfort that is caused due to ulcers and inflammation of the abdomen.

Kulanjan also improves blood circulation in the body.
What is the use of kulanjan?
Abstract. Kulanjan (Alpinia galanga) is a rhizomatous perennial herb used in traditional systems of medicine especially in Unani medicine. It is used as a single drug or as a compound medicine and it has actions such as expectorant, nerve stimulant, digestive, appetizer, stomachic, cardiac tonic, carminative, etc.
What is the benefit of eating galangal?
Benefits of Galangal includes fights inflammation, strengthens the immune system, increases sperm count and motility, protects against cancer, is a natural antimicrobial, good for skin, supports digestive health, linked to brain health, may help reduce blood cholesterol levels, fights respiratory ailments, can boost immunity.
To know more about the benefits of
Sitharathai / Kulanjan stick / galangal
in tamil watch this video
Watch this video to know how to remove
Black Neck , Hip and Thighs
Apart from the above mentioned uses there are many other uses and benefits of Sitharathai / Kulanjan stick which can be felt while using.
Visit our new website to get latest news in Tamil , English & Hindi