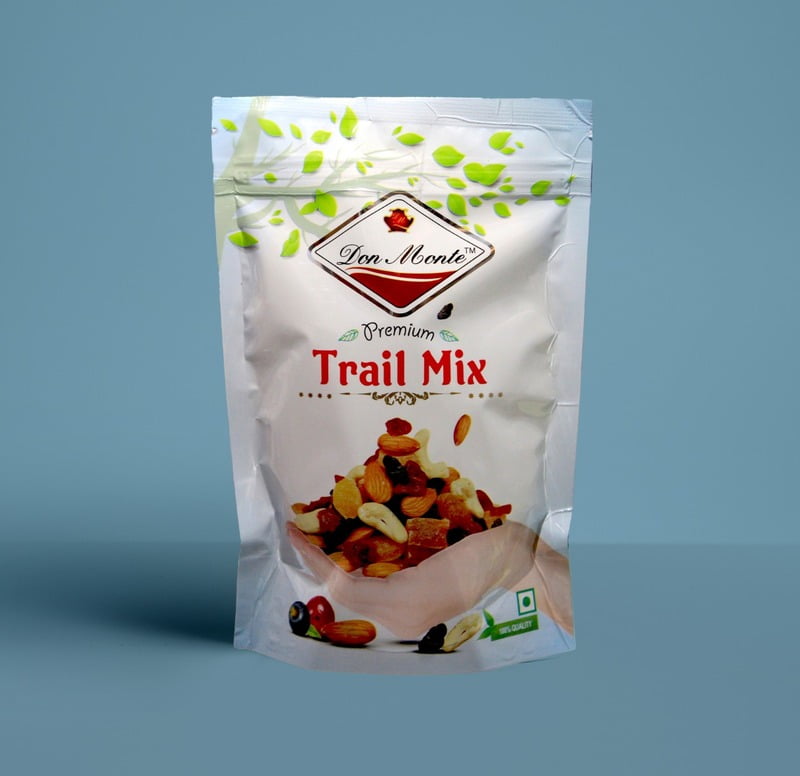 Trial mix nuts - 200g
Ingredients
: Cashew nut, Almonds, Cranberry, Black kishmish, Dried pineapple, Dried papaya, Blueberry
Trial mix nuts
Cashews are low in sugar and rich in fiber, heart-healthy fats, and plant protein

. They're also a good source of copper, magnesium, and manganese — nutrients important for energy production, brain health, immunity, and bone healt

h.
Almonds are rich in nutrients that help protect the heart, including unsaturated fatty acids, phytosterols, magnesium, vitamin E, copper and manganese. Two research studies in 2012 and 2014 found that including almonds in your diet may reduce the risk of heart disease, specifically in overweight individuals.
Many people consider cranberries to be a superfood due to their high nutrient and antioxidant content. In fact, research has linked the nutrients in cranberries to a lower risk of urinary tract infection (UTI), the prevention of certain types of cancer, improved immune function, and decreased blood pressure.
Black raisins are an amazing addition to your diet as they help eliminate impurities from blood, reduce blood pressure, hair loss, keep anemia at bay as they contain natural anti-oxidants and are rich in iron.
Dried pineapple is rich in dietary fiber in the form of insoluble fiber. This type of fiber supports the digestive tract to make sure things run smoothly. Insoluble fiber also provides a sense of fullness, so dried pineapple slices are a great option to satisfy hunger between meals.
Has Powerful Antioxidant Effects. Has Anticancer Properties. May Improve Heart Health. May Fight Inflammation. May Improve Digestion. Protects Against Skin Damage. Delicious and Versatile.
Blueberries can help heart health, bone strength, skin health, blood pressure, diabetes management, cancer prevention, and mental health. One cup of blueberries provides 24 percent of a person recommended daily allowance of vitamin C.
Health Benefits of Mixed Nuts
Mounting evidence shows that daily consumption of nuts and seeds may lengthen your life by lowering the risk of heart disease and diabetes. Here are some of the other benefits you can enjoy when adding mixed nuts to your regular diet:
High in protein

Loaded with antioxidants

Weight loss aid

Increase good cholesterol and lower bad cholesterol

Source of fiber
Nuts contain a broad range of nutrients that support overall health such as copper, magnesium, and vitamin E.
You may also like Athi palam
Apart from the above mentioned uses there are many other uses and benefits of Trial mix nuts which can be felt while using.
Visit our new website to get latest news in Tamil , English & Hindi