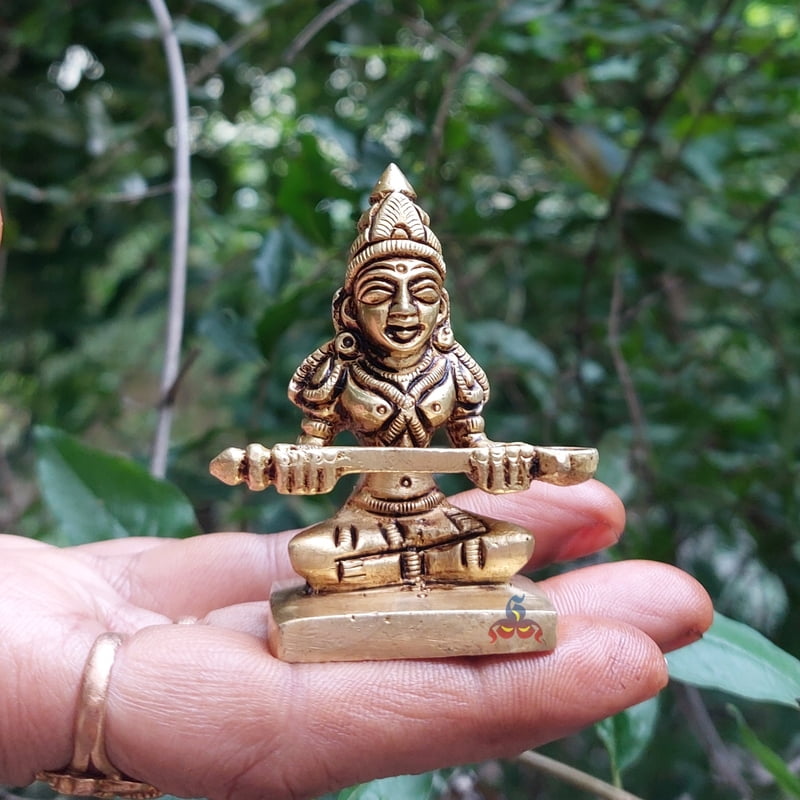 Annapoorani statue
Made out of brass - Brass is the generic term for a range of copper-zinc alloys with differing combinations of properties, including strength, machinability, ductility, wear-resistance, hardness, colour, electrical and thermal conductivity, hygiene and corrosion resistance. DOES NOT BLACKEN ON WASHING OR ERODE.
Annapoorani brass statue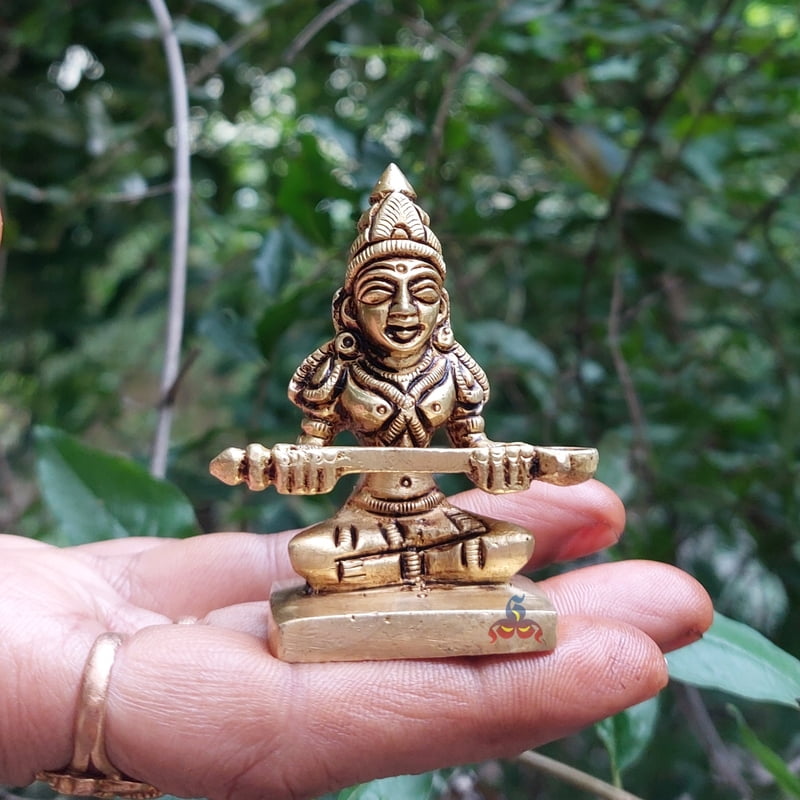 Annapoorani brass statue is an alloy of copper and zinc, in proportions which can be varied to achieve varying mechanical and electrical properties because It is a substitutional alloy: atoms of the two constituents may replace each other within the same crystal structure
This brass statue removes negativity and bad vibration from your house and give you wealth and all the goodness you need in life.
Above all she will bless you with good health and prosperity. Most importantly she will not let food scarcity in our home.
Brass Annapoorani Devi Statue, where the word Annapoorani means the giver of food, where the term anna means food, and poorna means to fill or complete. Goddess Annapoorani is the divine mother and all the living creatures on this earth as her children. Hence Annapoorani is the one who provides food and nourishment to all the living creatures on the earth.
This brass idol of Annapoorani is the incarnation of Goddess Parvati. She not only feeds the physical body but also feeds the mind and soul with knowledge, wisdom, and enlightenment. Worshipping this brass idol not only blesses with material gain but also spiritual requirements. Her grace provides us with health, wealth, and prosperity.
Brass Annapoorani Devi Statue Benefits:
Goddess Annapoorani is most famous in Kasi, the place where she originated. This brass idol is well sculptured with her unique traits holding a food bowl and spoon in her hands which depicts her as the food provider. This brass Annapoorani statue can be kept for pooja and also used as a gift for others with good deeds and positive intentions.
Brass Annapurna Devi in sitting posture. The Annapurna Devi is the goddess of food and harvest and is believed to be the one who fills the stomachs of the hungry with her noble powers.
Annapurani Statue in Brass online at low price in India. Goddess Annapoorani idol is very sacred and kept in pooja rooms. Wide varity of God and Goddess statues available from Chennai, Tamil Nadu.
The Annapurna Devi is the goddess of food and harvest. It is believed to be the one who fills the stomachs of the hungry with her noble powers. In Hindu belief she is the one endowed with the powers to supply food in a limitless form.
Where does Annapoorni stay?
அன்னபூரணியை இந்த தானியத்தில் அமர வையுங்கள் இன்னும் சிறப்பு Annapurna like this grain also
You may also like Lord Murugan statue
Apart from the above mentioned uses there are also many other uses and benefits of Annapoorani statue which can be felt while using.
Also visit our new website to get latest news in Tamil , English & Hindi