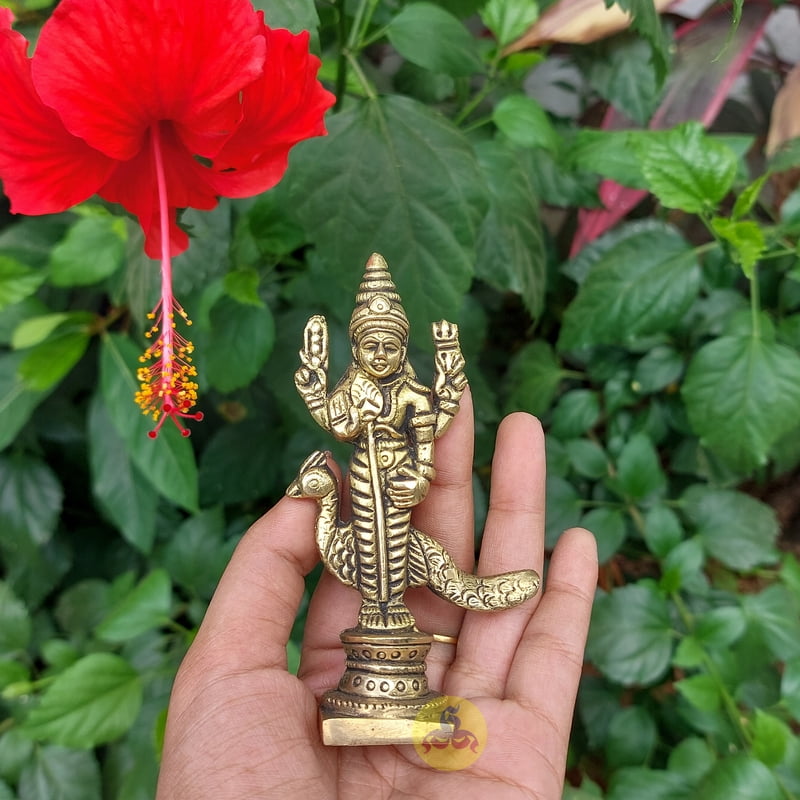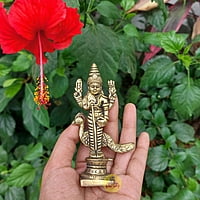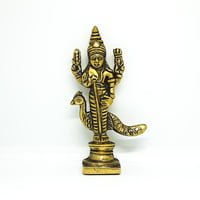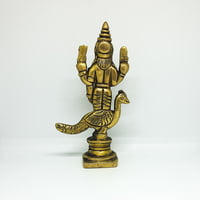 Lord Murugan statue - 4 inches - Brass



Worshipping Lord Murugan is believed to
relieve a person from nervousness
, thereby making him brave and courageous. Murugan statue prevents bad effects such as ill luck, evil-eyes, nightmares. It also acts as a shield against evil spirits and curses.
Lord Murugan brass statue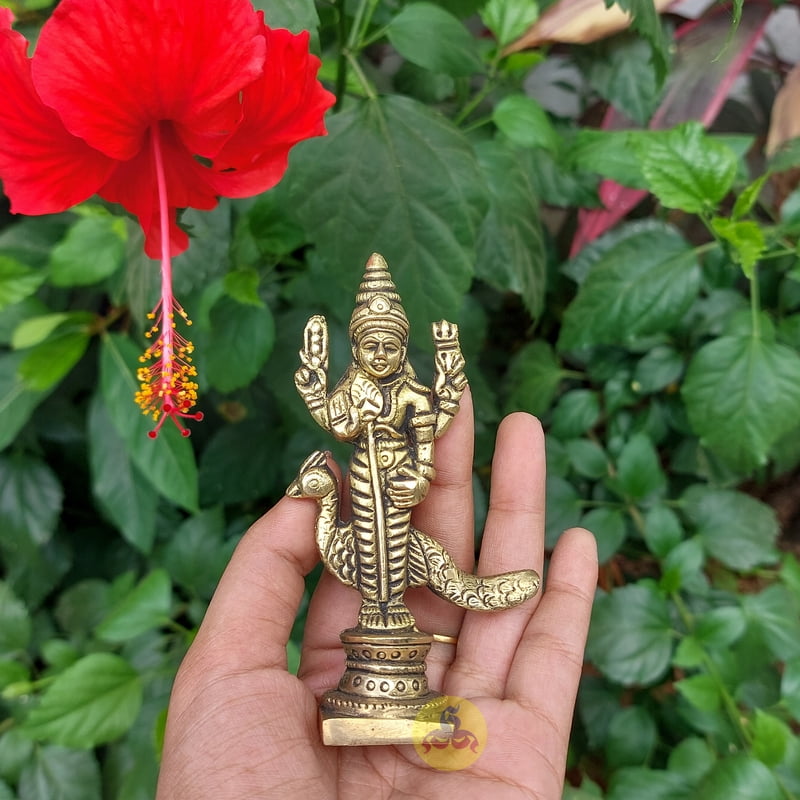 Lord Murugan brass statue is the commander of God's army or the warrior God. According to a legend, there lived an Asura (demon) named Tarakasur. He had defeated the devas several times and also caused massive destruction.
Brass Murugan Idol is with a divine vel and roaster flag & also with rich jewels, battle weapons, and a peacock behind him. Lord Muruga is the son of Lord Shiva and Goddess Parvati and also his brother is Lord Ganesha.
This brass lord Murugan statue is the God of War or The Guardian God and portrayed as the dominant Tamil deity in the form of a beautiful young man.
What does Murugan symbolize?
Murugan, henceforth, had the peacock as His vahanam and also the rooster became the emblem on His battle flag. The Vel became the symbol of valour, and of the triumph of good over evil. The Vel, as a symbol of Murugan's divinity, is an object of worship many temples of Lord Muruga.
What is Lord Murugan is for ?
Murugan, chief deity of the ancient Tamils of South India, son of the warrior goddess Korravai. He was later in part with the North Indian war god Skanda. His favourite weapon was the trident or spear, and his banner carried the emblem of a wild fowl.
Lord Murugan Statue is the Hindu god of war or guardian god. This statue of Lord Murugan is handcrafted and adorned with beautiful ornaments and other details representing the iconography of Lord Murugan.
This statue of Lord Muruga is in a standing position on an inverted lotus with his Vahana peacock.
Lord Murugan Statue Benefits:
Worshipping with this Murugan Statue brings all the joy, prosperity and also attracts positive spiritual vibes. This Murugan statue is for pooja purposes and also for gifting to any devotional ceremonies, functions, anniversaries, and special occasions.
Why Tuesday is special for Murugan?
Tuesday is known as Mangalvar and is held sacred, as it remains auspiciousness personified. The term 'Mangal' itself means auspiciousness and the day is also governed by the powerful planet Mars, which represents qualities like vitality, power, endurance and courage.
Watch this video about the favourite flower for Murugan in tamil
To know about how to worship Murugan with Shenbakamalar for child blessing in tamil watch this video
To know about thiruchendur Murugan worship method in tamil watch this video
You may also like Vinayagar brass statue
Apart from the above mentioned uses there are many other uses and benefits of murugan brass statue.
Also visit our new website to get latest news in Tamil , English & Hindi