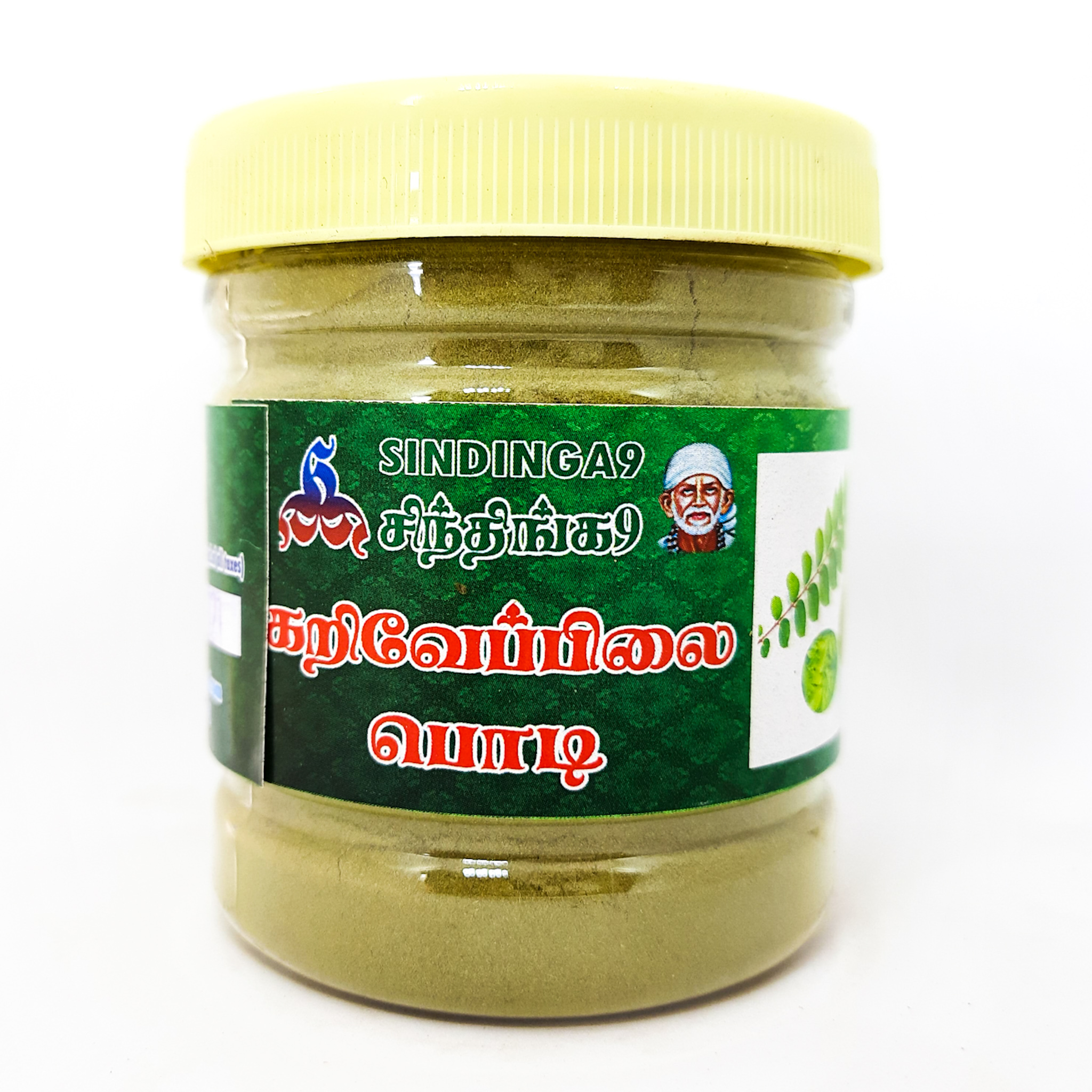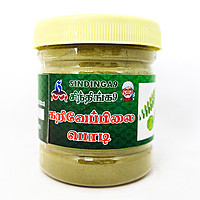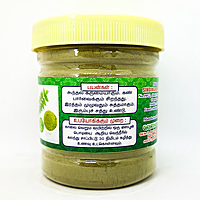 Curry leaf / Karuveppilai powder 100g
Curry leaves powder/ Karuveppilai podi powder online



1. Treats Diabetes:
The hypoglycemic property of the curry leaves plays a significant role in alleviating the blood sugar level of the body. The production of insulin from the pancreatic β-cells becomes active on the consumption of curry leaves. It helps in reducing the breakdown of starch into glucose which in turn leads to low blood glucose levels.
2. Prevents Anemia:
The deficiency of iron in the body causes anemia. Curry leaves having a high concentration of iron is extremely effective in increasing the hemoglobin and red blood cell count of the blood. It acts as a natural blood purifier, improves symptoms of tiredness and fatigue and reduce the chances of getting infections.
3. Good for Vision:
Curry leaves being abundant in Vitamin A and β-carotene play a vital role in improving eyesight and treating eye-related problems. It prevents the cornea from drying up and cloud formation in front of the eyes, thus reducing the chances of Xeropthalmia and night blindness.
4. Fights Infections:
The curry leaves have potent anti-bacterial, anti-fungal, anti-inflammatory and antioxidant properties. So regular consumption of curry leaves shields our body against various infections and germs.
5. Boon for Weight Loss:
Curry leaves are considered a boon by people under a weight loss management program. The presence of carbazole alkaloids in the leaves prevents weight gain and reduces the LDL cholesterol (i.e. bad cholesterol) in the blood. It washes out the harmful toxins from the body and burns excess fat.
6. Aids in Digestion:
The high content of fiber in the leaves has proven to be beneficial in treating several gastrointestinal troubles. The carminative, digestive, antiemetic and anti-dysenteric properties of curry leave not only aids in digestion but also prevent constipation, diarrhea, dysentery, piles, nausea, bloating etc. Being a natural stimulant, it enhances the appetite.
7. Prevents Cancer:
Recent researches suggest that the presence of phenols and carbazole alkaloids are extremely effective in treating and preventing prostate and colorectal cancers.
8. Dental Care:
Curry leaves have anti-bacterial and anti-microbial properties that are extremely effective in maintaining good oral health. The essential oils present in the leaves strengthen the gum and teeth, removes bad odor and protects the teeth and gum from any foreign microbes and infections.
கறிவேப்பிலையில் கீழ் காணும் 12 விதமான மருத்துவ பயன்கள் உள்ளன.

1) இரத்த சோகையைக் குணப்படுத்துகிறது:
2) வயிற்றுப் போக்கு மற்றும் மூலநோய் சிகிச்சைக்கு உகந்தது:
3) குமட்டல் மற்றும் தலைச்சுற்றுக்குத் தீர்வு:
4) சீரான இரத்த ஓட்டத்திற்கு வழிவகுக்கிறது:
5) வேதிச்சிகிச்சையால் ஏற்படும் (கீமோதெரபி) பக்க விளைவுகளைக் குறைக்கிறது:
6) 7) கண்பார்வையை மென்மேலும் உறுதியாக்கிறது:
8) கல்லீரலைப் பாதுகாக்கிறது:
9) கெட்டக் கொழுப்பினைக் குறைக்கிறது:
நோய் மற்றும் இத நோய்களிலிருந்து தடுக்கும் நல்ல கொழுப்பின் உற்பத்தி அளவை அதிகப்படுத்துகிறது.
மேலும் படிக்க: கொழுப்பு: கொலஸ்ட்ரால் அளவு, அறிகுறிகள் மற்றும் தடுப்பு முறைகள்
10) முடியை வலுவாக்குகிறது:
11) நீரிழிவு நோய்க்குத் தீர்வு கிடைக்கிறது:
12) செரிமான மண்டலத்திற்கு நல்லது: