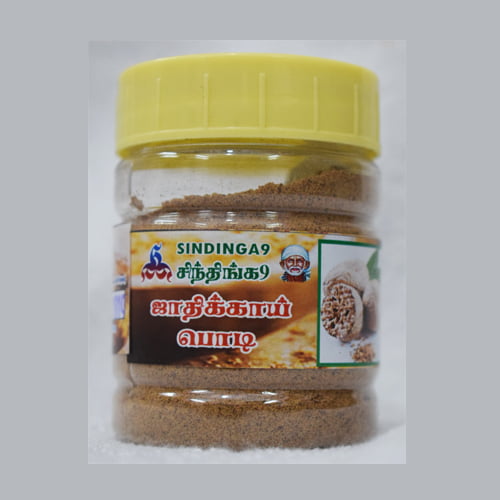 Jathikai or Nutmeg seed Powder
Jathikai is used to improve the over all health. It has antiseptic, anti spasmodic, anti rheumatic, analgesic, digestive and comforting properties
Benefits of Nutmeg
Contains powerful antioxidants. Though small in size, the seeds from which nutmeg is derived are rich in plant compounds that act as antioxidants in your body ( 1 ).

Has anti-inflammatory properties.

May boost libido.

Has antibacterial properties.

Is versatile and delicious.
How do you take nutmeg powder?
Besides being an exotic spice, nutmeg is grouped under the category of aphrodisiacs, and in cooking, only small quantities - such as a little grating or a pinch of the ground powder - are used to make soups, meat gravies, beef stew, steaks, roulades, and even desserts.
What happens when you eat nutmeg powder?
Nutmeg contains myristicin, a natural compound that has mind-altering effects if ingested in large doses. The buzz can last one to two days and can be hallucinogenic, much like LSD.
What does nutmeg do for a woman?
Nutmeg not only acts as an anti-depressant, but also works as an aphrodisiac by stimulating the central nervous system and warming the pubic region. It imitates the effects of serotonin. The spicy taste of nutmeg causes arousal, and the alluring aroma relaxes the body.
Is nutmeg good for sleep?
A natural chemical called trimyristin found in nutmeg is responsible for inducing sleep, relaxing your tired muscles and nerves and set in a sense of calm.
Is nutmeg good for weight loss?
Nutmeg eliminates toxins from your body, and has digestive properties that can help in increasing metabolism, thereby helping with weight loss. 2. It is also known to suppress appetite, because it is rich in fibre. That means no more unwanted binge sessions, which are the real cause of weight gain.
To know more about the benefits of jaathikai powder in tamil watch this video
You may also like Sandalwood stick
Apart from the above mentioned uses there are many other uses and benefits of Jathikai Powder which can be felt while using.