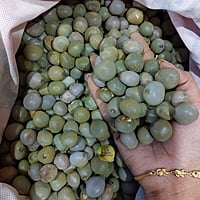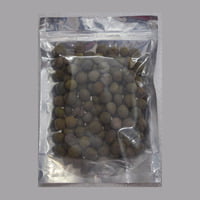 Kazharchi kaai or fever nut
Kazharchi kaai or fever nut
250 grams
Kazharchikai is a miracle bean which helps to treat and cure PCOS. It has many health benefits other than treating PCOS. It purifies blood, regulated blood sugar levels, antibacterial, antiseptic, antifungal, antiviral, antispasmodic and antirheumatic. It is found to be cancer protective when consumed on a regular basis.
What is the use of Kalarchikai?
Kalarchikai has been traditionally used as a uterine stimulant and is extensively used for treating many problems that women regularly face including painful periods, poly cystic ovarian syndrome and also to cleanse the uterus.
HOW TO USE?
Take 1/2 tsp kazharchikkai powder with honey morning in empty stomach and night before bed.
What is the use of fever nut?
Kazharchi kaai is also known as bonduc nut or fever nut, has been used in India for many years to treat fever, inflammation, diabetes, cardiovascular disorder, cancer and also for birth control. In recent years, the seeds of this plant are consumed to regulate the menstrual disorders in PCOS
Where does Sky fruit grow?
Sky fruit is the fruit of mahogany tree (Known as - Swietenia Macrophylla) that grows in the majority of Asian countries.
Features & Details :-
*Help treat and cure PCOS
*It balance the harmone level in the body and removes the CYSTS.
*100% chemical free powder.
*Natural & 100% vegetarion product
*Fresh with Natural aroma
Kazharchikkai is used by traditional Siddha physicians and also finds use in the traditional medicine system of Pakistan
To know more about the benefits of kazharchi kaai in tamil watch this video , child is blessed if you intake
To know kazharchi kaai remedy for PCOD chocolate cyst & all utress problem
in tamil watch this video
To know more about the benefits of kazharchi kaai in tamil watch this video
Apart from the above mentioned uses there are many other uses and benefits of Kazharchikkai / fever nut which can be felt while using.