Orange peel powder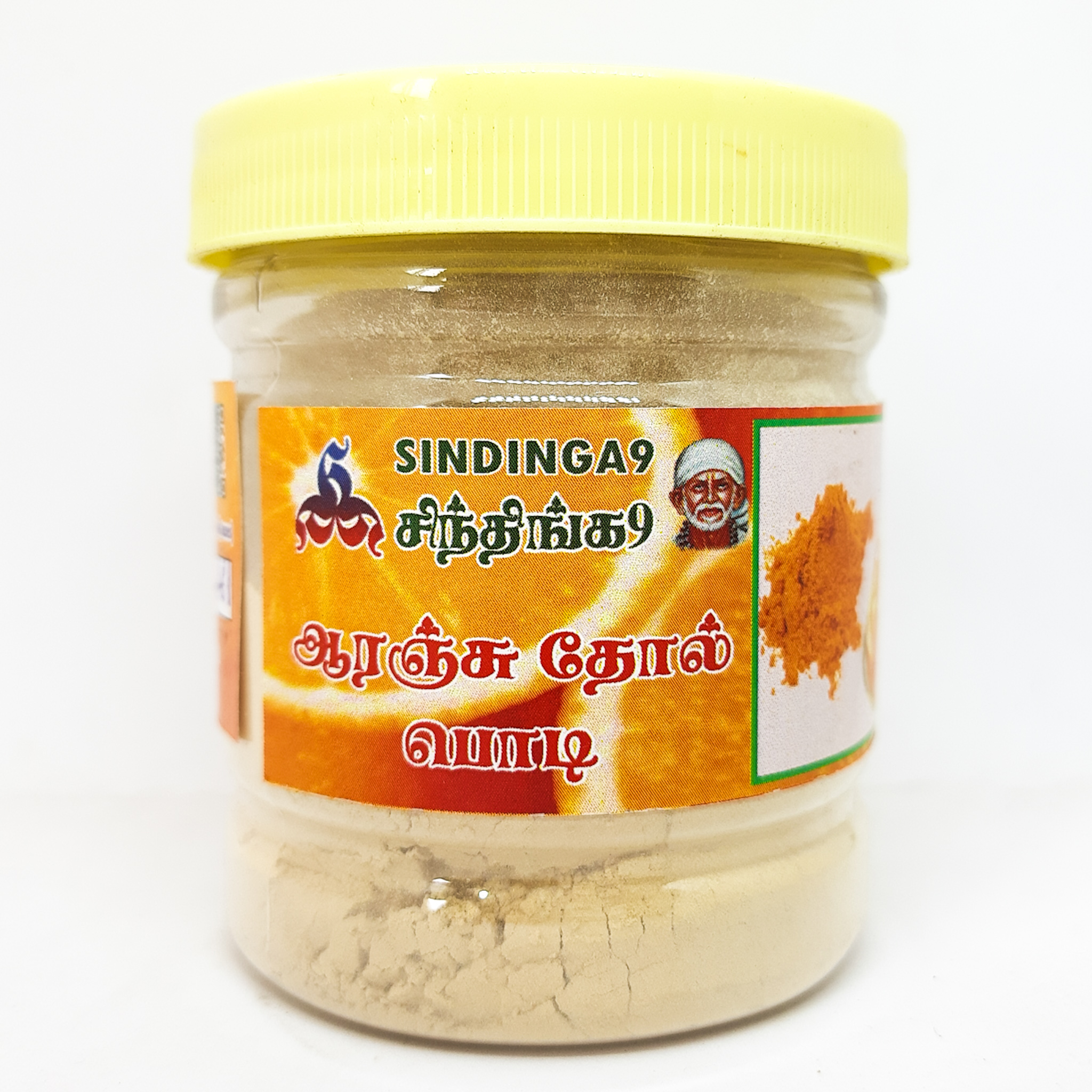 What is orange peel powder good for?
Orange peel podi is an effective exfoliating agent that helps in removing blackheads and unclogging your pores. Lightens dark spots If you are suffering from acne scars, dark spots or even pigmentation, orange peel powder's rich content of citric acid takes care of the issue.
Orange Peel Powder Benefits
It helps to lighten and also brighten the skin naturally.

It aids in cleansing your skin and fighting acne.

It can hydrate and moisturize your skin.

It helps in toning your skin.

It prevents oxidative stress on your skin cells and keeps signs of ageing at bay.
How to use orange peel powder?
Mix orange peel powder with pure yogurt thoroughly.

Wash your face properly.

Pat dry with a soft cloth.

Apply the orange peel powder and also yogurt mask over your face.

Leave it on for 15 minutes.

Rinse it off with water.
Can we apply orange peel podi on face daily?
Best for removing tan, this face pack will leave your skin refreshed. Take 1 tablespoon of orange peel powder, a pinch of turmeric, and 1 tablespoon of honey. Use the paste in place of a face wash every day for best results
How many days we can store orange peel podi?
Orange peel podi can be stored for 6 - 12 months, in an airtight glass container.
Does orange peel whiten skin?
Yes, it is like a natural bleach which is safe to use on your skin. It contains Vitamin C and natural AHAs which lighten skin. For best results, avoid using this in the daytime and also use it at night as Vitamin C can make your face sensitive to the sun in the daytime.
Can I rub orange peel directly on my face?
Orange peels work as a natural bleach and can help lighten dark blotches and remove them with time. Make sure to dilute the orange mixture before applying on your face because it contains a lot of citric acids to avoid burning your skin. Orange peel masks also can extract blackheads.
Does orange peel remove pimple marks?
Orange peels have lightening properties that help in the reduction of acne scars and also pigmentations. Apply this once every alternate day for effective results.
Can orange peel podi remove dark spots?
Fades Blemishes & Dark Spots-The skin whitening/lightening properties of orange peel powder are also helpful for fading away blemishes and dark spots on your skin! *Mix a suitable amount of orange peel podi with milk then apply onto your face. Wait for 10 minutes then rinse off.
To know more about the benefits of Orange powder in tamil watch this video
Also watch this video to know how to keep our skin healthy in summer
You may also like Multhani matti powder
Apart from the above mentioned uses there are many other uses and benefits of Orange powder which can be felt while using.
Also visit our new website to get latest news in Tamil , English & Hindi