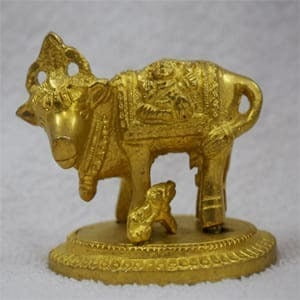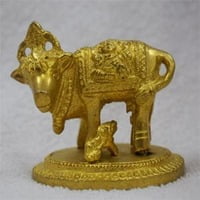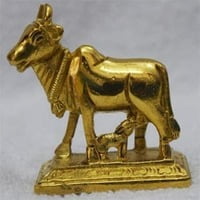 Komadha brass statue
DOES NOT BLACKEN ON WASHING OR ERODE.
Small
WEIGHT – 120 grams
HEIGHT – 5.08 CM
Big
WEIGHT - 210 grams
Komadha brass statue

komadha brass statue ---Brass is an alloy of copper and zinc, in proportions which can be varied to achieve varying mechanical and electrical properties.

It is a substitutional alloy: atoms of the two constituents may replace each other within the same crystal structure.
Brass is the generic term for a range of copper-zinc alloys with differing combinations of properties, including strength, machinability, ductility, wear-resistance, hardness, colour, electrical and thermal conductivity, hygiene and also corrosion resistance.
This statue of komadha removes negativity and bad vibration from your house.
Also this statue give you wealth and all the goodness you need in life.
Moreover he will bless you with good health and prosperity.
கோ தானம் யார் செய்யலாம் விதிமுறைகள் என்ன? who can donate cow and what is the right procedure