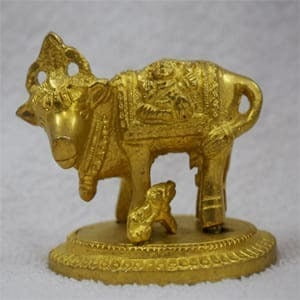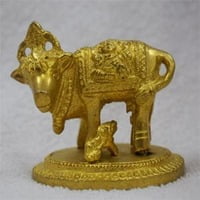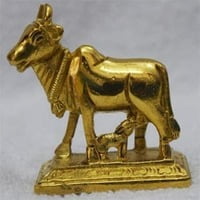 Komadha brass statue
DOES NOT BLACKEN ON WASHING OR ERODE.
Small
WEIGHT – 120 grams
HEIGHT – 5.08 CM
Big
WEIGHT - 210 grams
Komadha brass statue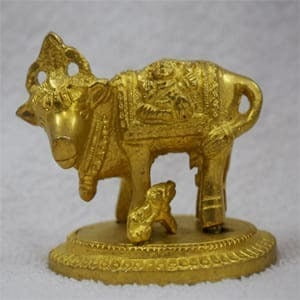 According to Vastu beliefs, bringing a statue of the Kamdhenu at home, preferably the one in which the wish-fulfilling cow is accompanied by its calf, Nandini, is sure to bring good luck, prosperity, and an overall sense of well-being in your house apart from fulfilling your wishes. A mother figure, the Kamdhenu is believed to ward off all ills from your house.
Benefits of keeping Kamdhenu cow and calf statue at home
Gives Wealth.

Gives Prosperity.

Gives Peace.

Gives Success.

Gives Positivity.

Gives Health
Best room to keep Kamdhenu cow-calf statue at home
If your house has a room for worshiping, something commonly found in Hindu households, it would be the best place to keep the Kamdhenu cow statue, as per Vastu rules.
You can also place the Kamdhenu cow statue at the entrance of your house. It is common for Hindu households to keep cattle at the entrance, especially in rural areas. Cows stand as testimony for wealth and prosperity of the household.
Can we keep Kamadhenu idol at home?
Kamadhenu is a divine cow originally residing in heaven. It appeared from the ocean during the 'churning of the seas'. According to Hindu scriptures, Kamadhenu can fulfil all your wishes. Therefore, Vastu Shastra envisages keeping a Kamadhenu idol at home to bring wealth and happiness.
Is it good to keep cow statue at home?
It showers health, wealth, growth, and prosperity in the life of the devotee. Kamdhenu cow helps the devotee to achieve both spiritual and materialistic growth in life. As per Vastu, a silver Kamdhenu cow and calf statue is very auspicious for keeping in your home.
What is the significance of cow and calf statue?
Four Legs: The four legs of the Cow and calf statue represent the four Vedas and also the Himalayas. The horns: The horns of the Cow and calf statue denote the Holy Trinity with Lord Shiva at the base, Lord Vishnu in the center, and Lord Brahma at the tip.
Can we give Kamadhenu as gift?
Kamadhenu is considered sacred and also auspicious. This is an ideal return gift for any occasion, which your guests would love to carry with them and also worship at their homes.
Can we worship Kamadhenu?
You can place the Kamadhenu in the Pooja room or a small home shrine on Friday and then worship it like the other deities. Those that experience household financial issues can also place the statue in the north corner of the room on Mondays.
To know more about the benefits of Komadha brass statue in tamil watch this video
You may also like Baba brass statue
Apart from the above mentioned uses there are many other uses and benefits of Komadha brass statue which can be felt while using.
Also visit our new website to get latest news in Tamil , English & Hindi