kumkumadhi thailam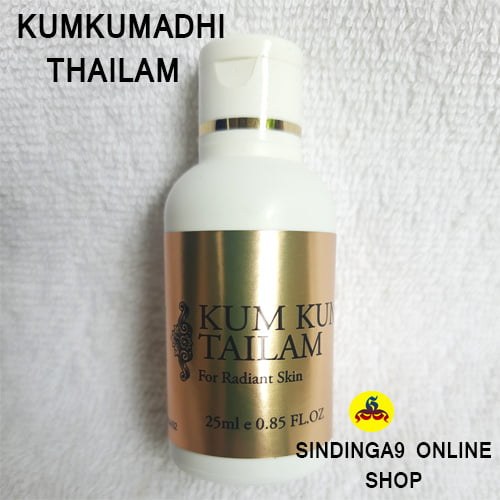 kumkumadhi thailam is well-known for its antiseptic, anti-bacterial and also disinfectant properties.
kumkumadi tailam helps improving the skin complexion, this unique blend of herbs and also oil especially the anti-fungal properties of lac effectively heals wound and prevents skin infections.
The most valuable benefits of Kumkumadi Tailam are:
Working as a natural skin illuminator by lightening the skin tone and improving skin texture,

Minimizing dark circles and repairing hyperpigmentation as well as signs of aging,

Getting rid of skin discoloration,

Treating blemishes and scars,

Brightening dull skin.



Can we use Kumkumadi Tailam daily?
Use 2 – 3 times in a day, continuously for a week. After that, use once daily. Use Kumkumadi oil for face-steaming and vaporization
Can we use Kumkumadi Tailam overnight?
Regular use of this oil in your beauty routine is useful in reducing sun tan and providing a healthy and natural radiance from within.

Mix equal proportions of Kumkumadi oil and almond oil and then apply it all over your face using a moistened cotton ball. Allow it to stay on your skin overnight.



How often should we use Kumkumadhi Thailam?
It can be used 2-3 times a day, continuously for a week, and then it can be used one time a day. Kumkumadi Oil can also be used for face-steaming and vaporisation. Take 5-10 drops of it, add it to the boiled water, and then take steam for 5 - 10 minutes.



Does Kumkumadi Tailam reduce dark circles?
Kumkumadi Tailam is Ayurveda's invaluable gift to mankind for its uncanny ability to eradicate skin related issues and then bring out the skin's natural glow.

One of its most well known benefits for skin is reducing dark circles and other signs of ageing.



Does Kumkumadhi Thailam make skin fair?
Kumkumadi Oil For Skin Brightening

The most well-known ingredient of Kumkumadi Tailam is Saffron (Keshara), which is fabled for its ability to transform your skin tone. By rejuvenating the skin cells and promoting blood circulation, it brightens the complexion



Can we apply Kumkumadi Tailam on lips?
The moisturizing properties found in Kumkumadi oil are not just good for your skin – they are also a great benefit to your lips. If you suffer from dry or chapped lips, apply a few drops of this oil on your lips.




To know more about the benefits of kumkumadi thailam in tamil , watch this video







You may also like Velleruku powder

Apart from the above mentioned uses there are many other uses and benefits of Kumkumathi thailam which can be felt while using.

Visit our new website to get latest news in Tamil , English & Hindi