Vinayagar brass statue / Ganesh silai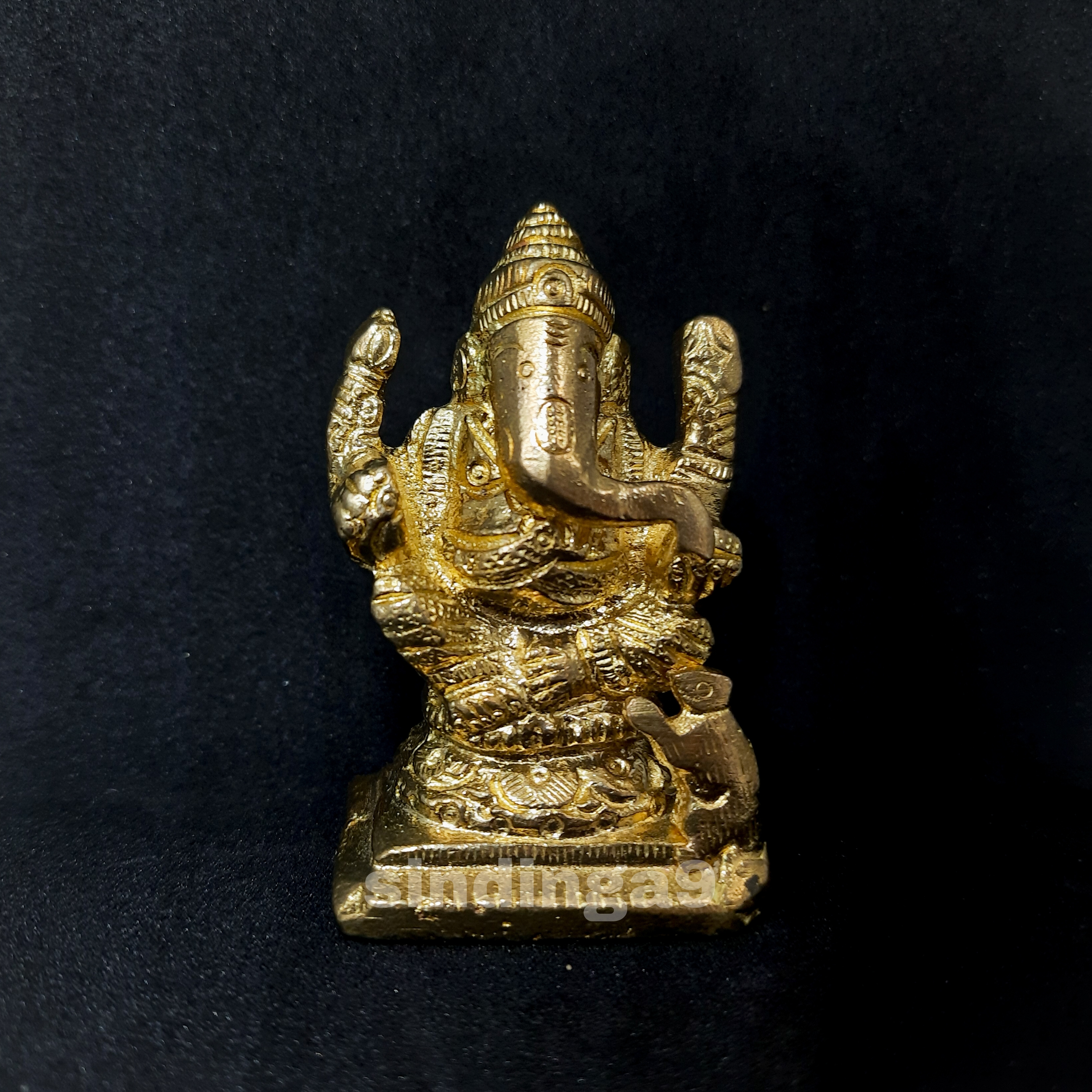 Hindu Lord Ganesha is the Lord of the achievement and destroyer of evils and also the obstacles. It is his attendance in any Avatar brings affluence to a home or the office. The brass Ganesh idol is the representation of fortune and prosperity.
It is an immense statue for those who desire to greet good quality luck in their life. The Ganpati Bappa is trouble-free to move toward deity among all the deities. Brass Ganesha form is extremely attractive and also attention-grabbing.
Is brass Ganesha idol good for home?
An idol of Lord Ganesha made out of brass if kept in the house and also worshipped regularly brings immense prosperity and joy to the people concerned.
Why should you bring Ganesh Brass Idol at home?
Bring home Brass Ganesha Statue and get the pure blessings of the Lord. The Ganesh Brass Idol is intricately carved with impressive details.
You can fill your life and the life of your loved ones with happiness. Gift it to your loved ones to create a peaceful ambience at home and in your relationship.Happiness and prosperity are the main concern of all people. Everyone wishes good health and fortune.
Choosing the Brass Ganesha Statue will bring more energy into your home. Worship the Lord Ganesha before inaugurating. Today, most people are focusing on choosing attractive Idols, yet Brass Statue remains everyone's preference.
Which God idols are gifted?
if someone gives the idol of Lord Ganesha as a gift in the marriage of his daughter, then along with the Lakshmi of the house, Ganesh also leaves the house. Whenever you buy Ganpati to keep in the house, make sure that the face of the idol should be looking.
Benefits of keeping Vinayagar brass statue in your home or office:-
Create a devotional home or office ambience.
Improve the quality of the place.
Gives a natural feel and also appearance.
Brings good omens in-home or office.
Take out negativity from the surrounding.
Be mentally and physically strong.
Where should you place Brass Ganesha Idol at home?
You can place it in the East direction or the South and also the West. These are the favourable directions. You should always avoid Northeast and also Northwest.
Do not worship Lord Vinayaka in this direction
Think this before keeping Idols in puja room விக்ரக பிரதிஷ்டை செய்யும் முன்
How to clean God idols at Home in Tamil | கடவுள் விக்ரகங்கள் சுத்தம் செய்யும் முறை
You may also like Lord Murugan statue
Apart from the above mentioned uses there are also many other uses and benefits of vinayagar brass statue .
Also visit our new website to get latest news in Tamil , English & Hindi