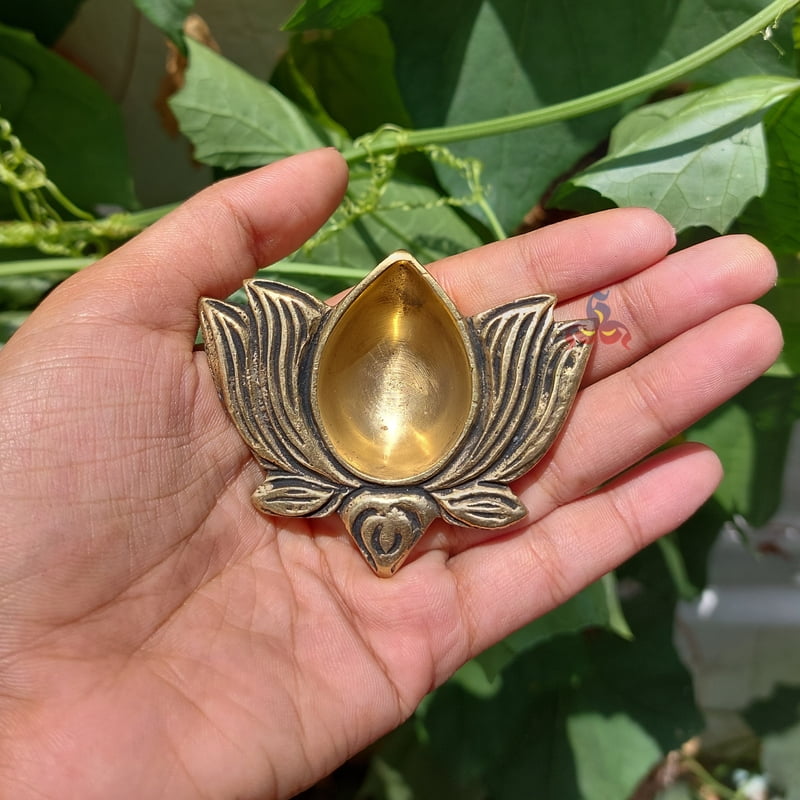 Lotus lamp Brass
Brass Lotus lamp
width - 2 inches
Length - 2.5 inches
Height - 0.5 inches
1. Perfect for gifting
2. Decorative lamp
3. Fills home with positivity
4. Adds beauty to interior
Lotus lamp Brass
This product is used for lighting lamp using the cotton wicks. It is an integral custom or tradition to start all the auspicious events by lighting the lamp to create a spiritual atmosphere.
This is beautiful decorative design religious diya which provide a unique and vintage look of your home.
Add to your pooja room decor with this handcrafted arts piece It will give an elegant look to your home temple puja room decor.
Traditional design this type of oil lamp is used for diwali, spiritual lucky gift, wedding, diwali, thanksgiving gift, birthday gifts
This festive season, add a distinctive touch of ethnic elegance to your homes with these beautifully crafted lotus lamps.
The dazzling charm of this piece makes it a phenomenal gift to give to your loved ones.
Sculpted like a lotus, this traditional artefact is made of premium quality brass which is heat resistant as well as possesses an unwavering shine.
It is a long-lasting metal that is easy to maintain and clean. This lamp will surely make any corner of your home a visual treat.
The lotus flower lamp is a wonderful interior design accent. It's one of those unique decor pieces with the ability to give your space a completely different ambiance.
lotus flower shape diya for puja & decoration purpose. It also serve as a metal lotus flower for decoration. Oil Dia traditional or oil lamp for puja are the traditional way of worshipping the god and are also good source of light since ancient times in our culture.
Oil lamps diyas are also considered as symbol of positive energy and are widely used for decoration purpose also like home decoration , bed room , kitchen, bathroom , dining room etc. decoration.
Diyas are also having religious importance in India as they serve as the main decorative for Diwali celebration poojan and diwali decoration.
Apart from the above mentioned uses there are many other uses and benefits of Lotus lamp Brass which can be felt while using.
Also visit our new website to get latest news in Tamil , English & Hindi