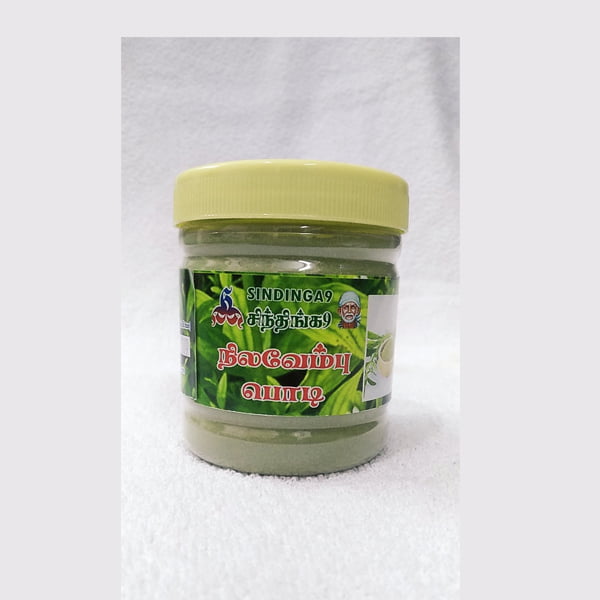 Nilavembu Powder
Nilavembu Powder 100grams
Nilavembu Powder
Nilavembu (also called Siriyanangai) is a Siddha herb used for its antipyretic, bitter, digestive, cholagogue, hepatoprotective, and anti-inflammatory properties. It is useful in the treatment of intermittent fever, malaria, chronic fever, dengue fever, chikungunya and all diseases in which fever is the main symptom.
Nilavembu alleviates fever, protects the liver, and provides strength to the body. It is also indicated in physical debility occurring after fever. It stimulates hepatic functions, improves appetite, enhances digestion, boosts metabolism, and reduces after effects of several medicines on the liver.
In addition, it is also beneficial in loss of appetite, hepatomegaly, fatty liver syndrome, incomplete evacuation, constipation, intestinal parasites, blood disorders, and skin diseases.
Medicinal Properties
Nilavembu has following medicinal properties.
Antipyretic
Anti-microbial
Anti-protozoan
Anti-infective
Insecticidal
Anti-oxidant
Anti-inflammatory
Immunostimulant
Anti-diabetic
Bitter
Blood detoxifier
Digestive
Cholagogue
Hepatic stimulant
Hepatoprotective
Nephroprotective
Nilavembu also has anti-proliferation activity observed in colon cancer. It also modulates sexual functions by increasing blood flow to penile tissue and relaxing smooth muscles. Andrographolide in it initially increase serum testosterone, but after its regular use for 6-8 weeks, testosterone starts declining to normal levels. (3)
Nilavembu Indications

Therapeutic indications of Nilavembu are as follows:

Intermittent fever
Malaria
Chronic fever
Dengue fever
Chikungunya
Post fever debility
Loss of appetite
Hepatomegaly
Fatty liver syndrome
Jaundice
Incomplete evacuation
Mild constipation
Intestinal parasites
Snakebites
Insect Stings
Sore throat