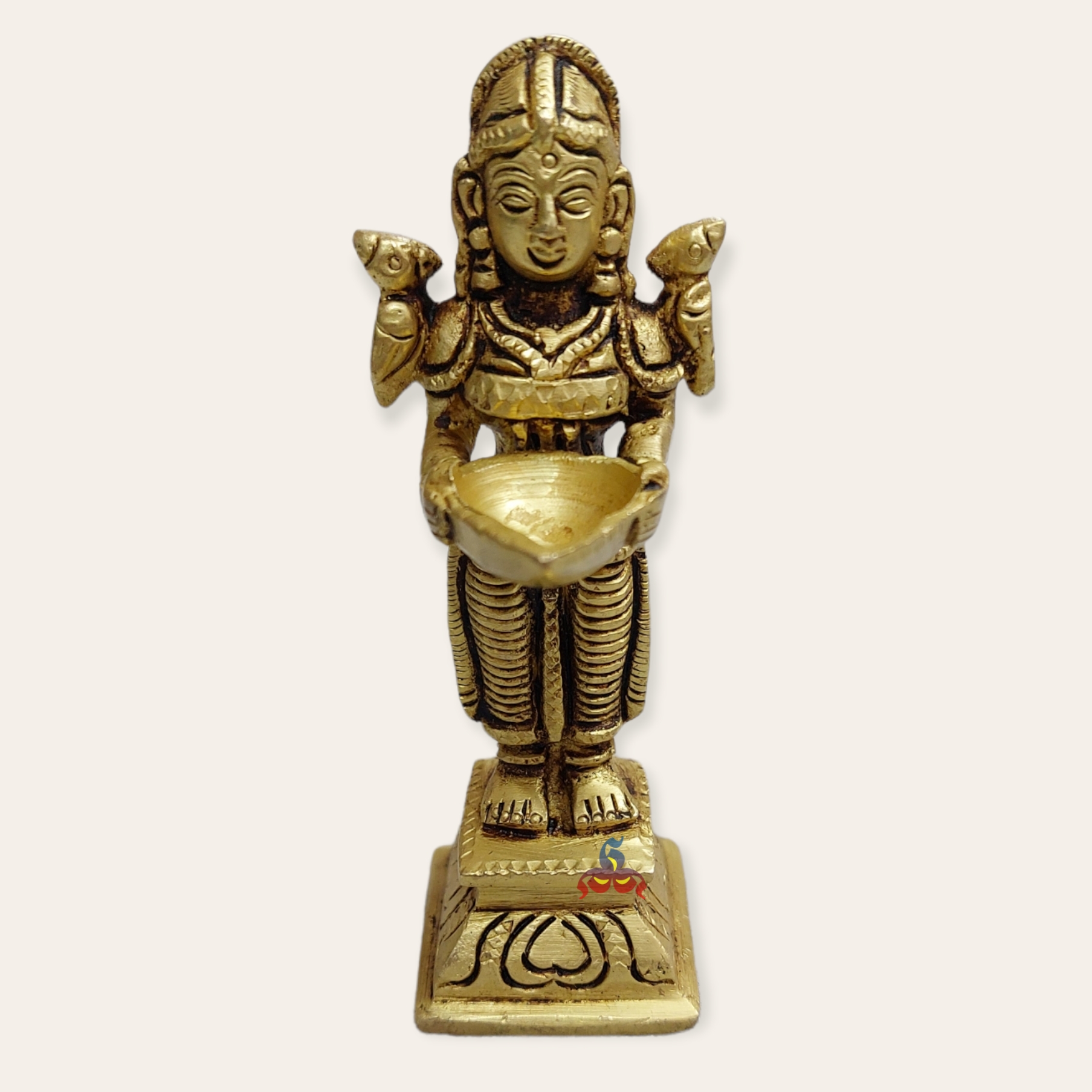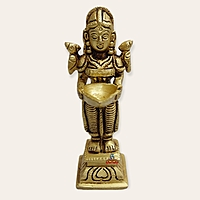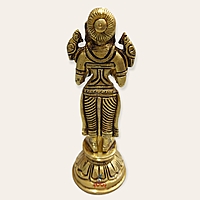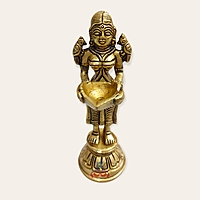 Brass Paavai vilakku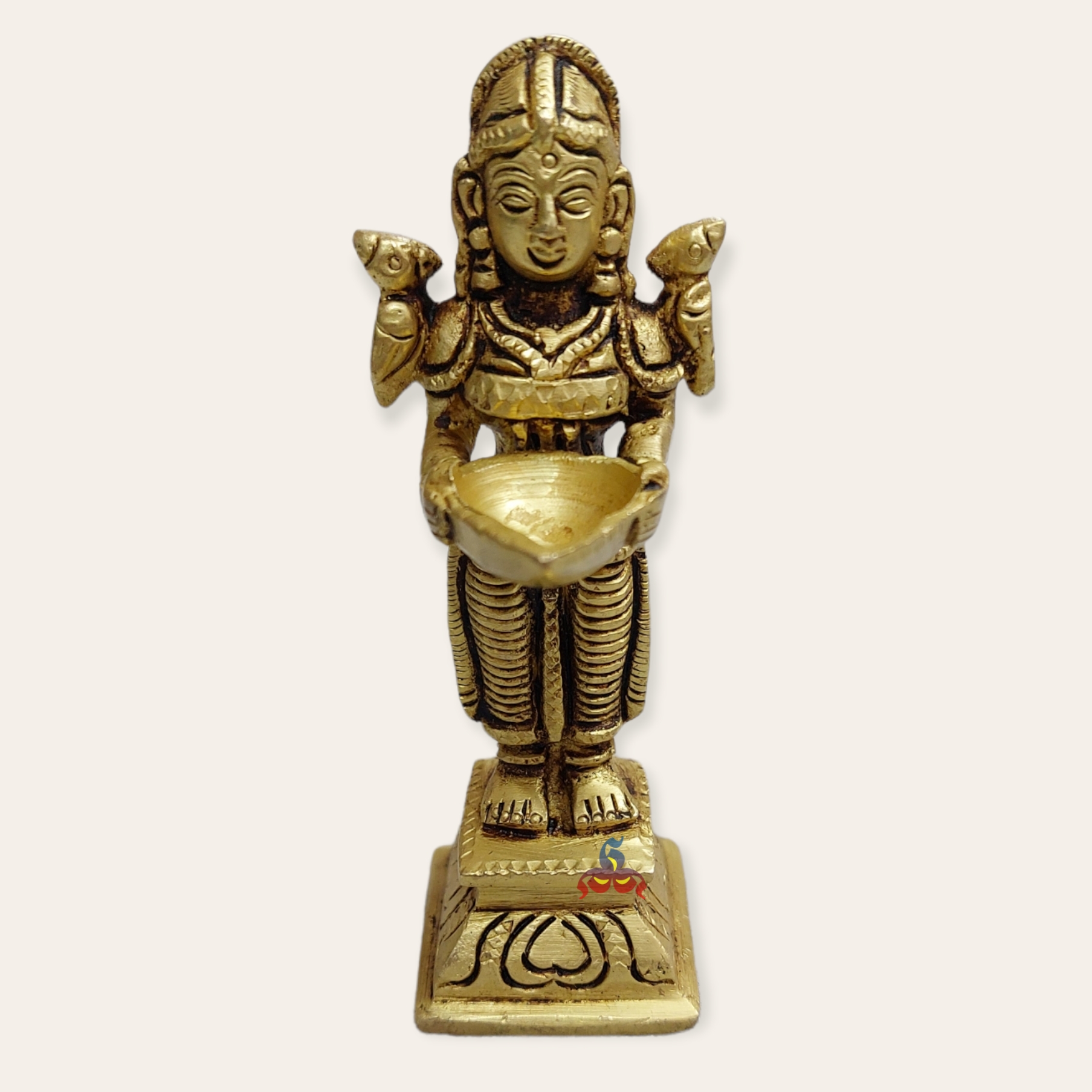 Importance of Paavai Vilaku or a Lady Holding a Lamp – Symbolism
Paavai Vilaku or a Lady Holding a Lamp is a very popular Hindu religious motif. The symbolism associated with it is auspiciousness. Gift during marriages, house warming and other similar functions . It is also donated to temples. Some scholars are of the view that the lamps might have originally come to South India through the Romans.
Paavai Vilaku or a Lady Holding a Lamp symbolizes prosperity and auspiciousness. In Hindu culture woman holding a lamp is a symbol of peace and prosperity.
Traditional Paavai Vilaku is that of a woman dressed in traditional dress and jewelry holding a lamp. This is the most popular one.
Today Paavai Vilaku comes in various designs including a bird on the arms of a lady. Paavai Vilakus are usually brought in a pair. Pure brass Paavai Vilaku will cost a fortune.Traditional Indian lady with lamp called pavai vilakku. Quality brass lamp traditionally used in South Asia.
All auspicious functions commence with the lighting of the brass diya or vilaku. The meaning is that the ignorance of darkness is removed when the light which symbolizes knowledge is lit. Hence we all bow down to knowledge as the greatest form of wealth.
They are of quality brass and looks very elegant to light-in up your festival.
Paavai lamps translate to "Lady with a lamp." These lamps have originated in South India with their usage dating back to the era of Pandya kings. They refer to by names such as Deepa Lakshmi, Paavai Vilakku, Vilakku Lakshmi, Kai vilakku yendiya kaarigai and many more.
Model of the first lamps are after the Yavanas or Greeks. The graceful feminine forms of these lamps were for their beauty, leading to their recognition throughout the region. The lamps change into stone carvings and also associate with religious references.
Temples are with intricate carvings of women holding lamps, seemingly welcoming and lighting the path towards deities. Alternatively, these lamps are of metals and also some are in use to this very day.
To know more about the benefits of Paavai vilakku Brass in tamil watch this video
Also to know about paavai vratham in tamil watch this video
You may also like Lord Murugan statue
Apart from the above mentioned uses there are many other uses and benefits of paavai vilakku brass.
Also visit our new website to get latest news in Tamil , English & Hindi