Tulsi or basil Powder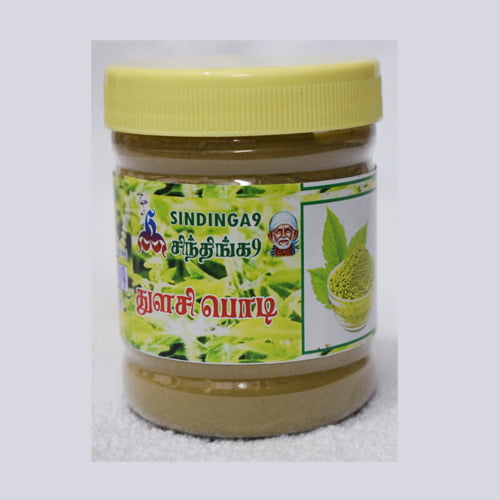 Holy basil Benefits Tulsi powder
Treat Asthma, bronchitis, colds, congestion, coughs, flu, sinusitis, sore throat and also similar ailments.
High blood pressure and then high cholesterol.
Headaches, earaches, and also eye disorders. Skin diseases and then insect bites.
Cramping, gastric disorders, indigestion, intestinal parasites, mouth diseases, ulcers, and also vomiting.
Diabetes and then blood sugar imbalances. Joint pain and alsorheumatoid arthritis. Helps Get rid from Kidney stones.
Best home remedy for treat Malaria.
Benefits of Tulsi are:
Natural Immunity Booster

Reduces Fever (antipyretic) & Pain(analgesic)

Reduces Cold, Cough & Other Respiratory Disorders

Reduces Stress & Blood Pressure

Anti-cancer properties

Good for Heart Health

Good for Diabetes Patients

Useful in Kidney stones & Gouty Arthritis:
How do you take tulsi powder?
The easiest way to consume tulsi is by adding it to your tea. Add tulsi leaves in water and bring it to boil. Let it simmer for 8 to 10 minutes. You can also add honey and lemon for extra flavour.
How much tulsi powder should I take daily?
If you are looking for an affordable pack of tulsi powder, here is another good option that you can consider. You can take 1 spoon of this powder in a day as directed by your doctor to work on your immune system, respiratory health and more.
Can tulsi be taken daily?
Taking Tulsi tea on a daily basis has a calming effect and helps reduce stress. According to Ayurveda, Tulsi helps reduce asthmatic symptoms due to its Kapha-balancing property. Tulsi is also useful in managing ringworm infection.
Can you drink tulsi powder?
Tulsi extracts are used in Ayurvedic remedies for common colds, headaches, stomach disorders, inflammation, heart disease, various forms of poisoning, and malaria. Traditionally, it is taken as herbal tea, dried powder, fresh leaf, or mixed with ghee.
Can tulsi boost your immunity?
Tulsi or holy basil (Ocimum sanctum) is undeniably one of the best medicinal herbs on the planet. Tulsi leaves extract increases the T helper cells (a type of white blood cell) and natural killer cells, boosting the immune system
You may also like Thoothuvalai powder
Apart from the above mentioned uses there are many other uses and benefits of Tulsi or basil powder which can be felt while using.
Visit our new website to get latest news in Tamil , English & Hindi