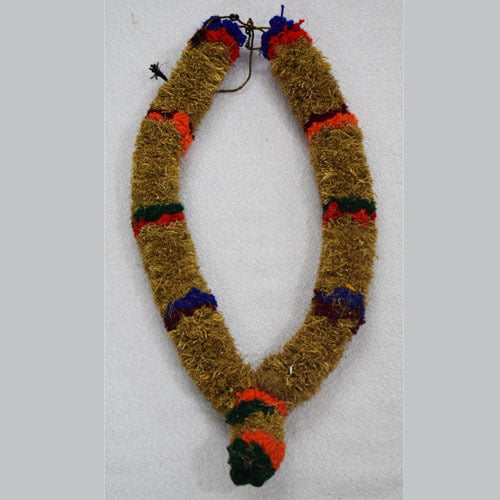 Vetiver garland or maalai
Vetiver garland or maalai Vetiver garland or maalai is a grass and it's name is from Tamil name 'Vettiver'. Vettiver is native to India and both it's leaves and roots have wonderful uses. It's roots are mainly in home remedies. I always have vetiver root at home. Since India is a tropical country, we as a nation have always been fond of natural ingredients that keep our body cool and vetiver tops that list, because it is such a natural body cooler.
USES & BENEFITS Vetiver is a boon for farmers in warm climates, as it prevents soil erosion. As the plant grows exclusively downward, it helps to block the runoff of surface water and conserves soil. Hence, it is to create boundaries for rice paddies. The fragrant essential oil obtained from the plant root is quite famous throughout the world. It is in high-end perfumes, for its fixative properties. The mats from Vetiver plant are in the house, to cool rooms during summer. Moreover, they even add a pleasant aroma in the house, when sprinkled with water occasionally. It has anti-inflammatory and antiseptic effects that provide relief from inflammations in circulatory system and nervous system. Vetiver is to create a tonic bath, which is the reason why it is often in high quality soaps. In addition, it finds an application in combat lice as well. It is a boon for individuals suffering from rheumatism, arthritis, gout, muscular aches, dryness and cracking of skin etc. The oil obtained from Vetiver has sedative effect and aids in the treatment of emotional outbursts, such as anger, anxiety, epileptic and hysteric attacks, restlessness, nervousness, etc. We also use vetiver in our traditional bath powders. Since vetiver is very fragrant and cooling, using bath powders made with it, cools the body and prevents heat rashes. Other than using it in traditional remedies, it has other wonderful uses too. Vetiver grass is in mushroom making, as a roof material and for making handicrafts. Other main important use of vetiver is the conservation of soil. The roots of vetiver is very effective in preventing soil erosion. Vetiver essential oil also has wonderful benefits for treating ADHD, acne, depression, arthritis, stress, in making perfumes, etc. Vetiver essential oil is also good for insomnia. A few drops of this essential oil rubbed on the feet calms the mind and brings in sleep for people who suffer from insomnia.