Vilvam powder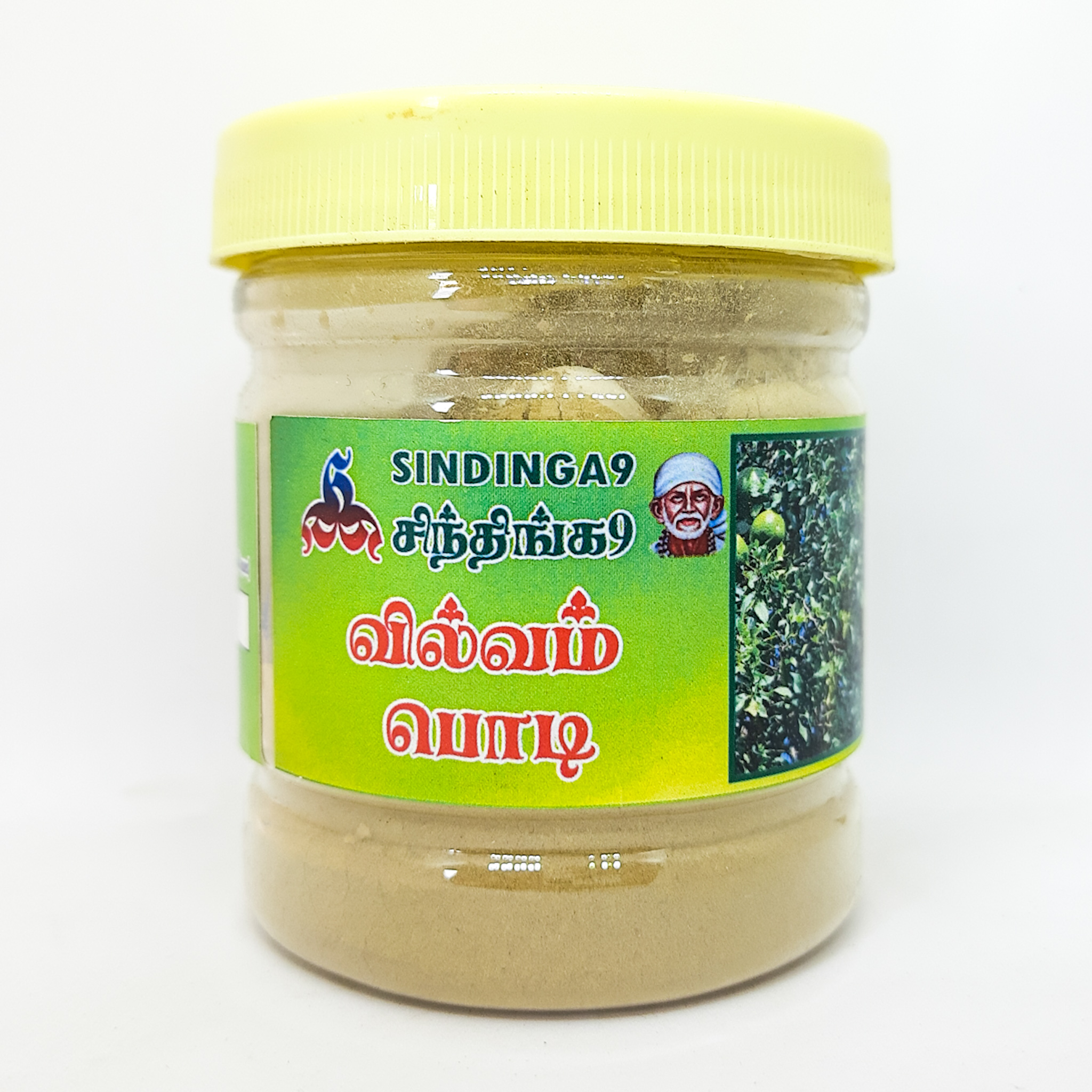 Vilvam powder Benefits of Indian Bael Vilvam powder or Bael is load with a myriad of nutrients which include vitamins A, B1, B2, C and minerals calcium, potassium and iron. The host of plant compounds in bael is beneficial in treating tuberculosis, hepatitis, ulcer and digestive problems.
vilvam powder benefits
It has been used traditionally in ancient Indian science for its medicinal properties. It is known to have a strong ability to aid in digestion and help the system stabilize digestion-related issues such as constipation, dysentery, and diarrhe & has natural anti-bacterial and anti-inflammatory properties.
What is the use of Vilvam podi?
Vilvam Powder will assist with diabetes, diseases due to vata dosha, neurological conditions, emesis, diarrhea, piles, constipation, pelvic pain, colic, obesity and small intestine disease.
How do you drink bael/vilvam podi?
Take ½ - 1 teaspoon of Bael Powder with one cup of warm water. Drink this mixture as a tea once or twice daily, or as directed by your healthcare practitioner. Please consult your physician prior to the use of this product if you are pregnant, or nursing, or on medication, or have a medical condition.
Is bael/vilvam good for weight loss?
Bael/vilvam powder juice contains 140 healthy calories that are good for weight loss fanatics. As mentioned before, consuming it post a workout is a better option than going for a market sold energy drink. Due to the fiber content, it is also great to get rid of initial water weight in the body.
Can we drink bael juice daily?
A 250 mL glass of bael juice contains 140-150 calories. Since the fruit is naturally sweet, it provides with the necessary nutrition to an empty body post workout. One glass every day is a choice you can opt for if you need a filling drink which serves your sweet tooth as well.
Watch this video to know how to reduce stress using vilvam powder
Watch this video for Powerful home remedy to stop drinking
You may also like Kabasura kudineer கபசுர குடிநீர்
Visit our new website to get latest news in Tamil , English & Hindi