Lakshmi guberar statue is a statue that is worshipped as a God who protects and conserves wealth in a family.
Worshiping Kuber idol regularly ensures fast results and blesses the natives with prosperity, wealth and goodluck.
He is the basis of gain of unlimited wealth and prosperity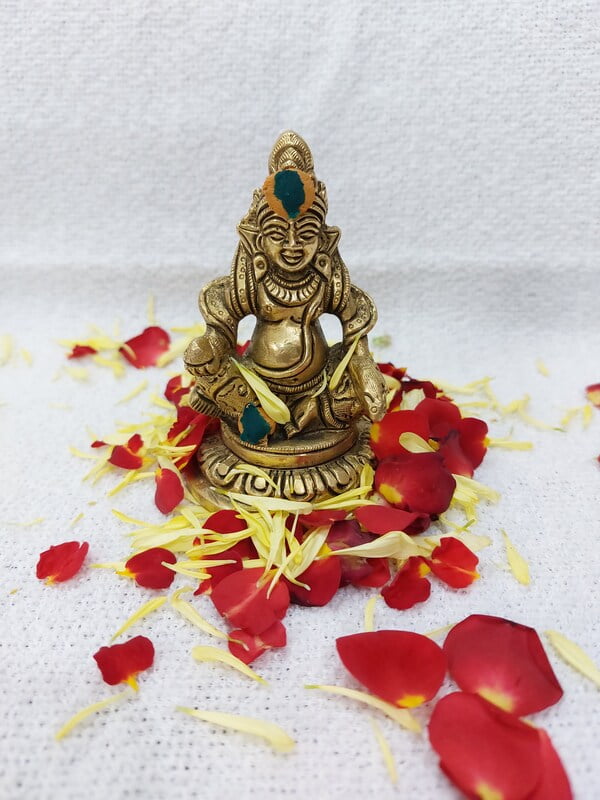 Where to place kuber idol in house ?
Lord Kuber rules over the North Direction . Hence, place the Kubera statue at home in the North direction of your property. You should keep the Kuber Yantra in the Northern, North -East direction of the house.
Because the North Zone is the home of Lord Kuber, the God of Wealth, you can erect a statue of Lakshmi Kuberar statue there. This will improve your luck with money. You don't have to pray to him, but he deserves to be respected. Keep the lord kubera statue in your locker.
Lakshmi guberar statue brings prosperity and good luck to worshippers. Brass Kuber Maharaj idol also brings prosperity and good luck to worshippers.
Kuber controls money and riches in the whole world and heaven. The abode of Gods and Goddess. Kuberar dwelling is in Himalayas and he is facing the South direction. So it is necessary to place him in the North at home.
Kuber is worshipped for quick financial gains, unexpected gain of money through lotteries and a prosperous business. He guards the North Direction. Kuber Murti offered by us brings prosperity, wealth and money in your life. This Murti also reduces unwanted expenses and assists in flourishing of your businesses.
குபேர சிலை இப்படி இருந்தால் சிறப்பு | Perfect Kubera statue should look like this | purchase method
நினைத்ததை நிறைவேற்றும் குபேர முத்திரை Kubera Mudhra that fulfills all your wishes
You may like baba brass statue
You may also like lakshmi guberar coins
Also try Lakshmi gubera vilakku
Use Kubera endram manakattai along with this statue
Apart from the above mentioned uses there are many other uses and benefits of laksmi guberar statue (green) / Kuberar silai.
Visit our new website to get latest news in Tamil , English & Hindi